Let's Talk About the Women of Black Panther, the Strength and Heart of Wakanda
Black Panther is maybe the most socially important film in the superhero genre. We all kind of knew this going in — high-profile director who's never backed down from his focus on such things, current socio/political climate, beautifully hued casting — but the results were wonderfully surprising.
Not being a POC (person of color), I know this film isn't 'for me' in some respects (which didn't ever deter my desire to see it), but I am a comic film and good story fan, so yes, it's also a film for me.
I am a woman, though, so I do understand some small notion of what it's like FINALLY see positive representation on screen. I can only imagine what POCs who see this film will feel, I was sure happy to see my sex presented in such a monumental way, but infinitely more important for my friends with a different skin color than mine.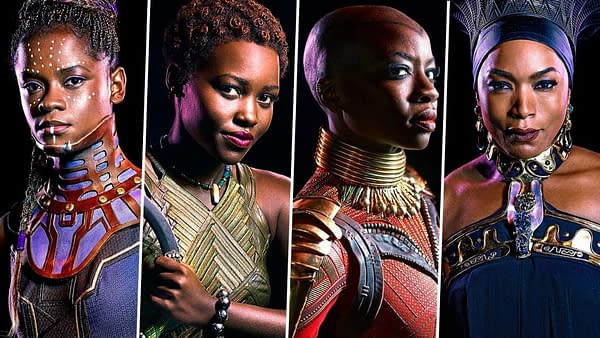 T'Challa is nothing without the women in his life. This is important in the vein of Marvel films, because for the most part, the women aren't a source of strength for the Marvel men. Peggy Carter didn't really get her importance until her own short lived tv series, Pepper only REALLY kept Tony organized, and Natasha… well, she's a different story altogether because of her own background and how horribly she was treated in Age of Ultron. We got maybe the closest glimpse of a strong Marvel woman with The Wasp in Ant-Man even though she was never the costumed hero during the film. And after all that — here comes the Dora Milaje and the rest of the Wakandan women.
It's never about competition with the women in Black Panther. They are NOT trying to one-up one another, to tear another woman down. They are the pillars of strength for the plot and the action, they are the heart and the soul of the story, and they are the strength of Wakanda and its King. I would go so far as to say without the women in his life, T'Challa wouldn't be alive (probably) nor in the position he's in. Let's start with The Queen Mother. Angela Bassett as Ramonda was an inspired choice, we knew that from the moment she was announced for the role. Getting to see her, proud Queen with the best hats, mother of two pretty great kids, pillar of strength and dignity. We have to assume, much of T'Challa's chill comes from her. Her focus and her regal restfulness finally shaken up with the action in the film, but she never loses her air of majesty. Okoye. General of the Dora Milaje and resident badass supreme. We get to see Danai Gurira play this role from both the steadfast military leader bound to duty, to a warm presence proud of her Prince. Sure, she does have to choose between loyalty to a person and loyalty to the throne, but her job is her life. She knows her duty, she knows her purpose, and trusts that things will work themselves out. Not to mention, the rest of the warrior women of Wakanda she leads. They. Are. AWESOME. Watching her kick so much ass in an evening gown was the highlight of the film for me personally. Nakia. River Tribe Princess and former flame of Prince T'Challa (it's in the script), Lupita Nyong'o is the embodiment of a Princess who wants to truly help her people. She's out there, running missions, protecting those who need it, and she doesn't want to play royalty when she can be out in the world really be making a difference. I wish we would have gotten maybe one more fight with her in it towards the end, but she also kicks much ass with her twin chakram weapons. Shuri. Letitia Wright may be playing the youngest of the women, but she is by no means weak. From her lab comes all the new Wakandan tech, her bond with her brother is important to both characters. One could argue she does more to protect the new King, the country in general, with her inventions. She's brave and focused, but hasn't lost her young spirit despite being such an old soul. She immediately jumps into action when needed, and her brother depends on her maybe more than anyone else, which says something.
There is no small part of me hoping if the rumors are true and Robert Downey Jr. really is done playing Iron Man, that maybe the MCU takes hints from the recent comics and has Shuri take up the mantle a-la Riri.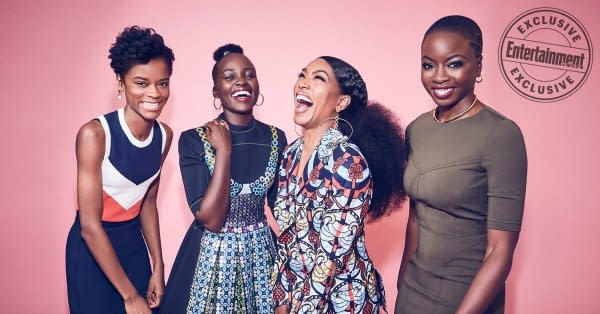 To repeat: Black Panther IS. IMPORTANT. Ryan Coogler did something truly amazing with this film, and I can't wait to see more reactions come in.