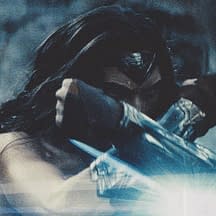 More details are emerging about Batman v Superman: Dawn of Justice via Empire Magazine (as transcribed by Comic Book Movie). Focusing in on Wonder Woman, director Zack Snyder revealed that the cinematic Diana is 5000 years old. As the film opens, she is in retirement because "she's seen it all, she has seen what humans can do, so it was very hard for her to come back and fight."
"When she is Diana she tries to blend in, she is not too outgoing," said Wonder Woman actress Gal Gadot. "I don't want people to think she is perfect. She can be naughty."
And speaking of Gadot's starring role in 2017's Wonder Woman, executive producer Deborah Snyder said her sexuality will be part of her power. "Gender has been a hot topic, so it is very timely to bring her back," she added. "Looking back and doing an origin story — and it is a period piece — see the role of women through history. There is a great source of humor in that now. It is so unbelievable you can't even fathom it. You are still making a statement, but having some fun with it."
Meanwhile, Wonder Woman co-star Chris Pine told Jimmy Kimmel (also via CBM) a little bit about the film, noting the difference between it and the typical male-lead action film. "What I think its really lovely of having a woman at the helm of something like this is just by virtue of her being a woman there is a great deal of more compassion and love at the center of the story," he said. "Which for something as big as a film as this is going to be and with the kind of eyes that are watching, I think it's wonderful in the little bit that we could do to hopefully inch this universe towards something not as aggressive and violent."
Batman v Superman: Dawn of Justice opens on March 25th. Wonder Woman debuts on June 23rd, 2017.
Enjoyed this article? Share it!