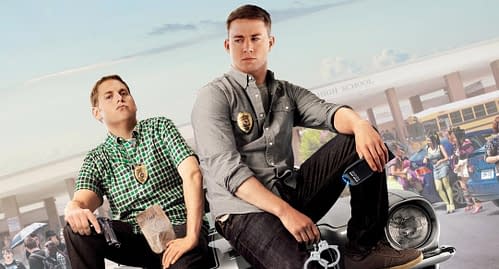 Chances are, you haven't seen Phil Lord and Christopher Miller's 21 Jump Street yet, but many of you will soon, and then you'll be able to flashback to now, reflect on what I'm about to tell you, and feel really rather happy.
Jonah Hill got talking to E! reporter Marc Malkin at the Oscars and announced that the studio have already pulled the trigger on a follow-up screenplay:
We are writing the sequel now. We got [the greenlight] by the studio to start writing the sequel."
Just to reiterate: they are writing the sequel.
Sorry… who is, exactly? Who is this "we"?
The first film's script is credited to Manic and Scott Pilgrim's Michael Bacall, with Jonah Hill also getting a story credit. I'm absolutely sure there's a lot of ad lib in there too, and likely a certain amount of uncredited rewriting work. Still, it's probably reasonable to guess that Hill was referring to himself and Bacall.
Directors Lord and Miller are supposed to be making the Lego movie next, but I think they really proved crucial to the 21 Jump Street mix. Hopefully they're in at the ground floor this time, consulting with "We" as the screenplay comes together.
37 Jump Stre… 21 Jump Street opens on March 16th in the US and March 23rd in the UK.
Enjoyed this article? Share it!