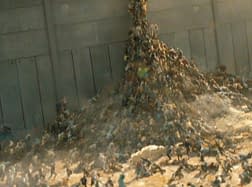 According to The Hollywood Reporter, a sequel to World Wars Z is in the works at Paramount with Utopia creator Dennis Kelly writing a new draft. Apparently, there was some concern that director J.A. Bayona might move on to direct the Jurassic World sequel, but sources told THR, "there was little Bayona could do given that he has a holding deal for World War Z 2, but the Jurassic World 2 overtures helped light a flame under Paramount to keep Bayona happy and get a new script in motion with the fanboy-friendly writer."
The first film starred Brad Pitt and was directed by Marc Forster. Based on the Max Brooks novel, it went through several permutations and reshoots to become enough of a hit to secure a sequel.
World War Z 2 is scheduled for a June 9th, 2017 release.
Enjoyed this article? Share it!