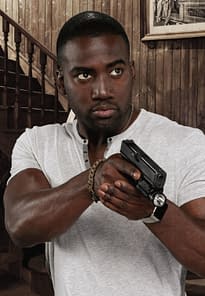 On Wynonna Earp, Shamier Anderson plays Agent Xavier Dolls, a member of the US Marshals' Black Badge division created especially for the television series, but at WonderCon last weekend, he told assembled fans assembled that he was thrilled to see the character made his way into the most recent Earp comic book series by writer Beau Smith.
When Bleeding Cool talked to him about Dolls during our set visit last December, he said there were some advantages to playing an original character. "I get to come up with his nuances. He's like a new baby in the world," he explained. "It's a little easier, but I've also been given this canvass from Beau and [executive producer] Emily [Andras] and the production team to build this guy up and bring him to life."
At the time, he had not read the earlier Wynonna Earp comics, but felt it made sense because Dolls is himself a new element to the world. For him, it was better "to come to it with a new perspective and without a preconceived notion of how [the story's universe] works."
So who is Agent Dolls? "He's straight to the point. A very principled guy. He gets A-pluses in everything," Anderson said. He comes to Purgatory to investigate the Revenant problem, reaching out to Wynonna Earp and offering her a place in the Black Badge division. He seems to accept that she is a sort of chosen one, according to the actor, but "Wynonna being the rebellious person that she is, there is a conflict there [with Dolls]." As time goes by, he said they will "find a short-hand" as they get used to working with each other.
And while it might seem Dolls is a no-nonsense government suit, Anderson said the character definitely has a heart. "There's a lot of layers to him," he explained. "That's the trick of being so stoic [at first]. But you'll see things that will hopefully surprise the viewers later on." Despite that initial stoicism, Anderson said he found the humor in "how serious and how passionate he is about his job," adding, "It can be mistaken as him being upset, but he's a lovable guy."
Anderson also teased that a little bit of the Black Badge division's history will be explored, as well as some of Dolls' backstory. "You'll get to know why he's there, who he knows and why he's a little different," he added. The character will also begin to smile more, crack jokes and "maybe even let Wynonna off the hook a little bit." But he also said that Dolls will often "clean up the mess" left by Wynonna.
That tension will inform their early working relationship, but Anderson said Dolls will come to "reassure her that it is important and letting her know that if she doesn't do these tasks, it could effect the whole world." He called it something akin to a older brother dynamic, though "there might be a [romantic] undertone later on."
With the first season focusing on the Revenants, the revived men killed by Wyatt Earp, Anderson quickly showed his appreciation for actor Michael Eklund as the group's lead, Bobo Del Rey. "He's so much fun and you'll see some interactions between [him and Dolls]. He's definitely Dolls' match physically," he said. Anderson also suggested Bobo might be "slightly different" from the other humans and Revenants in Purgatory.
"Everybody's incredible," he said of the cast, including star Melanie Scrofano and actor Tim Rozon, who plays Doc Holiday. Anderson mentioned he gets along quite well with Rozon, but Dolls and Doc have a much tougher time together. "Wynonna may be a reason for that," he teased before saying, "At the end of the day, Dolls may have a small like for Doc."
Loving cop shows like Starsky and Hutch and the docu-series Cops, Anderson went to school to study criminology and trained with weapons prior to breaking into acting. "I wanted to be a police officer growing up. It's always been a passion of mine," he said. It made the part an appealing prospect. The supernatural elements appealed to him as well. "I'm a big sci-fi nerd," he said I watched Ninja Turtles growing up. I'm a big Power Rangers fan," he said. "So going into the sci-fi world is exciting. Everyday I come to work and play with cars, guns, demons, fight stuff all in the paranormal world. It's a treat."
One element he has noticed in sci-fi and genre television is the intense loyalty of their followings. "Hopefully there will be a lot of loyalty [for the show] because the writing's incredible and the team is incredible," he said. "We have a great camaraderie between the writers and the actors when it where they really understand the characters," he continued. "The writers are so in tune with what the actors are doing and it just works."
But even as the scripts offer what he considers to be an authentic Dolls, the writers' room is less giving on future events, even things Anderson will be involved in. "The writers are pretty secretive," he joked. At the same he said he felt "humbled and blessed to be a part of it."
Wynonna Earp premiers Friday on Syfy.
Enjoyed this article? Share it!