Jonathan Rich writes for BleedingCool.com …
Full disclosure: I'm a recovering Kevin Smith fanboy.
When Clerks came out in 1994, I was one of the millions of young men whole found his foul-mouthed dialogue and pop-culture laden writing spoke for me and a generation who previously had no voice.
I saw Malllrats in a largely empty theater opening day and even traveled to Red Bank, New Jersey for the grand opening of Jay and Silent Bob's Secret Stash (years before it was the set for the Comic Book Men reality TV show) where the man himself showed guests the first trailer for Dogma.
I even interviewed Smith after the event about his transition from convenience store clerk to indie film auteur. A signed Jersey Girl poster proudly hangs on the wall of my home and I have bought more merch from his online store over the years than I probably should have.
And that is why it genuinely pains me to write this review of Yoga Hosers, a film the writer/director who once meant so much to me made for his teenage daughter but probably should not have.
Yoga Hosers already has its built-in audience and Smith himself playfully and pre-emptively includes several scenes protecting it against critics, so the intended audience will already be pre-disposed to love or hate it. But for those outside the cult of "snoochie boochies" the New Jersey native has created for himself over the years, I cannot stress enough how the once mighty have fallen.
The plot is pretty simple: Two minor characters from 2014's Tusk (both named Colleen and played by Smith's daughter Harley Quinn Smith and Johnny Depp's child Lily-Rose Depp) take center stage as teenage yoga practitioners/clerks at the Eh-to-Zed convenience store in Canada (get it?) and we follow their pedantic prep school lives up North. The Canadian Nazi Party's unholy reemergence in the form of genetically reanimated bratwursts, called bratzis (get it?), twists the narrative into something more along the lines of a 1980s horror adventure with another spinoff character from Smith previous monster movie (Johnny Depp in layers of prosthetics) providing background and comic relief.
That's pretty much it. If you love Kevin Smith you're already on board, but if not you, certainly do not want to get in this boat.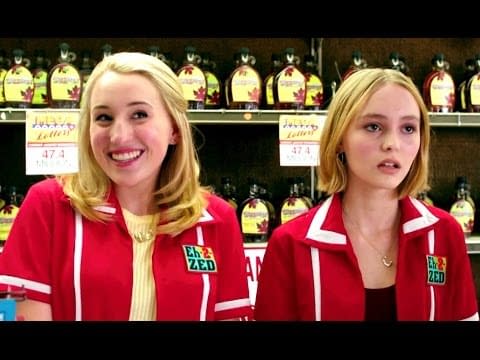 The reasons for this are many. First, there is the overriding aspect of nepotism throughout Yoga Hosers. Smith has famously cast his friends and family in previous pictures (and if I were in his shoes I probably would too), but no one comes out the better for it in Yoga Hosers. Young Harley Quinn Smith does have some moments of promise in her first speaking role in one of her father's films, but seconds later she switches to the juvenile glee of 'Daddy's little movie star' by dropping the theatrical façade and shamelessly soaking up the camera's spotlight. Lily-Rose Depp fairs a little better than her real-life gal pal on screen, but at the same time she too seems a little inexperienced when having to carry the weight of the picture on her juvenile shoulders.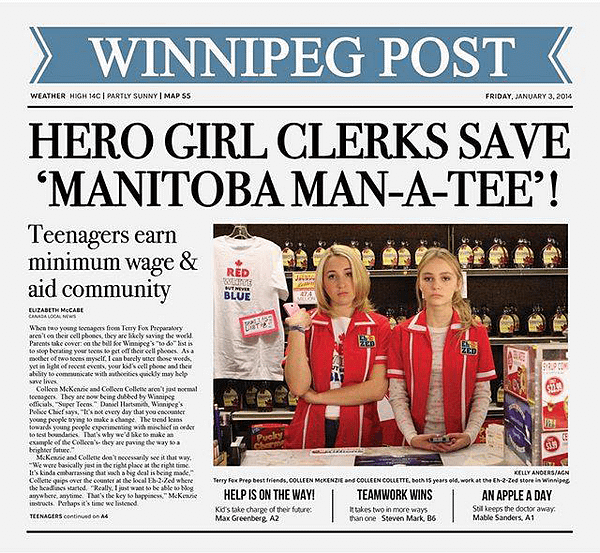 Then, there are the plethora of cameos and call backs. Fans of the self-proclaimed 'fat man' may enjoy seeing the director's mother on screen in the opening minutes as well as return engagements from his wife and many other hangers on, but what is most distracting are the quick jokes Smith inserts into his fabricated take on social media; words quickly fill up the screen only to disappear before the joke can land. This was probably done for the benefit of hardcore fans who will no doubt scrutinize each frame of the film when it is released to digital platforms, where the pause button can isolate the wordplay, but the tactic only gave me pause when in the movie theater.
Tusk alum Justin Long offers a few moments of levity as a punnily-named yoga instructor, but his character falls prey to the old adage that if you have to repeatedly explain a joke it probably was not that funny in the first place.
Johnny Depp seems to be having subversive fun working for actor's scale from underneath the mountain makeup and abrasive accents he employs here, though the constantly shifting mole in his scenes was done to better effect in just about any other movie using the same gag.
Another egregious misstep is the inclusion of Smith podcast pal Ralph Garman who loudly runs through his repertoire of famous actor impressions just as fast as he chews the scenery of every frame in which he appears. None of his voices are more current than the millennium and all seem tragically out of place in a film ostensibly aimed the next generation of Kevin Smith devotees.
I had high hopes for the addition of Adam Brody as a beleaguered punk rock drummer for the band Glamthrax (get it?), but his talents are obscured under the very tattoos that mar his brief screen time.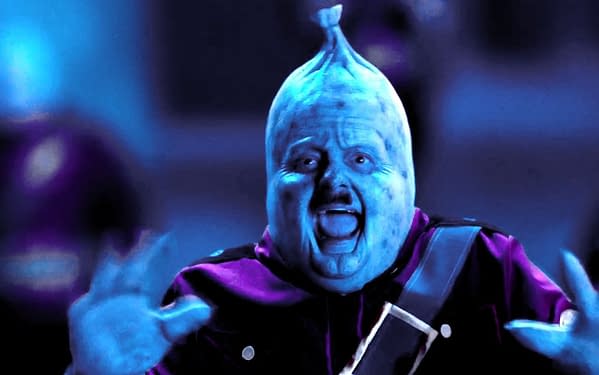 Probably the most emblematic cameo of all, however, is reserved for Smith himself as the army of digitally replicated monsters plaguing Smith's stereotypical semblance of Canada. For this role, Silent Bob shaved his trademark beard into a Hitler mustache and shrieks in broken German at his protagonists to the delight of no one.
If this was an intentional commentary about the state of his cinematic catalog, then Smith's performance is brilliant. Perhaps the once insightful filmmaker with his finger on the pulse of a generation subconsciously knows he has fallen in love with the smell of his own farts and has been reduced himself to the punchline of his own jokes via this shrill caricature.
However, I don't think this is the case. Perhaps he just wanted to be onscreen with his daughter in a film designed as her calling card to the industry much in the same way Clerks was for Smith.
As a recovering fanboy who grew out of my Kevin Smith obsession after Zach and Miri Make a Porno, but before he became so enamored with the sound of his own voice via his Smodcast recordings, I ponied up the money for a special pre-official screening of the film Tuesday night in the hopes of seeing my old friend share this love letter to his daughter's generation, and at the same time watch him prove he still had some of the old spark that initially spoke to me more than twenty years ago.
Sadly, this was not the case.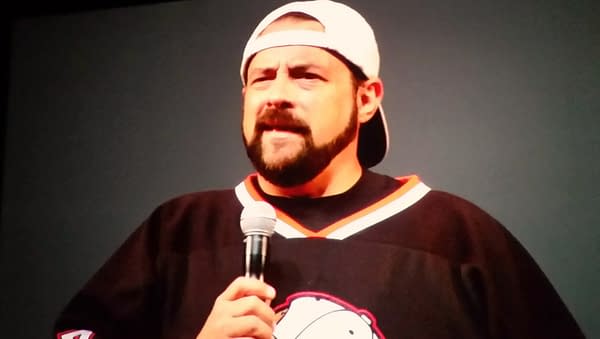 During the half-hour pre-recorded Q&A which preceded the film, Smith said he made Yoga Hosers because all of the films he was watching with his teenager revolved around male superheroes saving the day and he wanted to offer an alternative that young girls could aspire to and be inspired by. But ever the self-centered apologetic, he also some took his critics to task before his fans could even wonder why.
"They said 'He made a midnight movie for an audience who can't stay up late enough to watch it,' but I had to make the movie that was in my heart and mind," Smith told the crowd.
Sadly, I wish Yoga Hosers was more like Jersey Girl, a personal statement about how life can change and even those who love Star Wars, comic books and yes, Kevin Smith movies, evolve and grow up eventually.
Instead, what you get from his latest film is a man going around in a circle shamelessly clinging to the past surrounded by his sycophants to the degree that the end product is one big inside joke which the audience feels ostracized from instead of laughing along with or even enjoying because it is largely devoid of merit.
The worst part of it all is as the credits roll, we are warned Smith's plucky protagonists "will return in Moose Jaws," the final film in his Canadian horror/comedy trilogy.
Maybe once he gets that out of his system, we can all move on. Kevin, your friends and your fans will always remember the good times and your better films. Maybe they will even forgive (but not forget) this indulgent period in your career where you believe any idea is a good idea as long as it was excreted from somewhere inside your once relevant imagination.
It's kind of like the relationship between George Lucas, his fans, and the much maligned Star Wars Holiday Special. I understand why it exists, but that does not justify any of it.
As your daughter says over and over in this film, "Sorry, aboot that."
Here's hoping better days — and films — lie ahead for both Kevin Smith and his legion of fans. Please get back to having something personal to say. Until then, I guess we have to tolerate watching you tread water with your insular posse until that spark ignites again.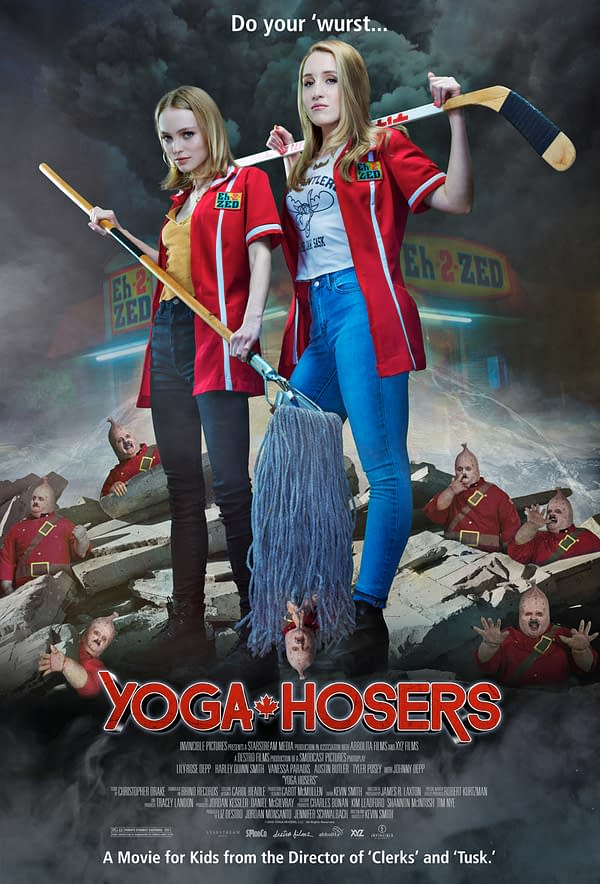 Yoga Hosers
Directed by Kevin Smith
Rated PG-13
Starring: Lily-Rose Depp, Harley Quinn Smith, Johnny Depp, and just about all of Kevin Smith's friends and family
Runtime: 1 hour 28 minutes
Bleeding Cool critique: It's nice to make something for your kid, but this mess is way more than indulgent and only for the most die-hard Kevin Smith completists.
Jonathan Rich is a freelance journalist, high school educator, and self-professed comic book nerd working in the Blue Ridge Mountains of western North Carolina. He writes about entertainment and pop culture for various print and web publications, including bleedingcool.com.
Enjoyed this article? Share it!