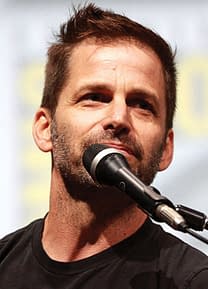 Even with the release of Batman v Superman: Dawn of Justice a little over a month away, director Zack Snyder is still responding to criticism of his previous superhero outing, Man of Steel.
While appearing on the Hall of Justice podcast (via The Hollywood Reporter), the director countered the fan complaints about the changes made to the Last Son of Krypton in the film. "People are always like 'you changed Superman.' If you're a comic book fan, you know that I didn't change Superman," he said. "If you know the true canon, you know that I didn't change Superman. If you're a fan of the old movies, yeah, I changed him a bit."
The old films, initiated by Richard Donner's Superman in 1978, portrayed a gentler and well-adjusted stranger visitor in the form of actor Christoper Reeve. The genial character was re-embodied by Brandon Routh in Superman Returns, director Bryan Singer's love letter to the Donner film.
By contrast, Man of Steel portrays Clark Kent — in the form of Henry Cavill — as a man unsure of his place in the world and reticent to form bonds after growing up with a secretive Jonathan Kent. Desperate to hide himself from the world, he only makes his presence known after confronting a technological ghost of his birth-father.
While the character has certainly changed over the years, from a brawling defender of the little guy to god-like patrician to a man dealing with his extraordinary abilities, the choices made in Man of Steel irked some long-time fans. Snyder said the intention was to create a Superman who would set the tone for the DC Films universe.
"What we've done is create a place where they can really be the mythological characters as designed in the comic books," he explained. "If you're a fan of them in the comic books, you'll get a great opportunity to see what they look like, and how they move, [that] they're real."
The first real glimpse of that place will come when Batman v Superman: Dawn of Justice opens on March 25th.
Enjoyed this article? Share it!