How distinctive is Michael Shannon's head shape? Would you know it anywhere? Would you know it from back over his shoulder?
A new set-snap from The Man of Steel shooting in Plano, Illinois appears to show Shannon, who is playing General Zod. I suppose seeing where he is exactly sort of constitutes a spoiler. At least until this scene's in the trailer. Don't scroll down if you're really cautious about these things.
Now, I think this is Shannon in the motion capture suit. If not, it's likely somebody chosen because they're a good double for Shannon, head shape and all.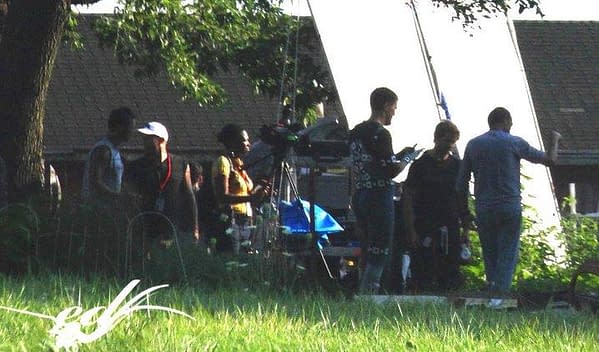 What we can therefore surmise is that Smallville will see a visit from Zod. And that Zod will be dressed in motion capture clothes.
Which is a bit odd. I wonder if it's some kind of plot point?
Okay – so what we actually surmise is that at least one of Zod's outfits is going to be painted in later – think Green Lantern. This Zod seems to be a motion capture creation… with a human head.
Thanks to the Man of Steel Facebook stalkers for their dedication.
Enjoyed this article? Share it!