Cosplay Spotlight: Stardust Megu
The focus of our Cosplay Spotlight today is Stardust Megu! One of the nicest cosplayers I've had the pleasure to work with, Megu is not only a talented cosplayer, but also an upbeat, body positive, and optimistic delight of a person. Check out her interview below and make sure to give her page a visit!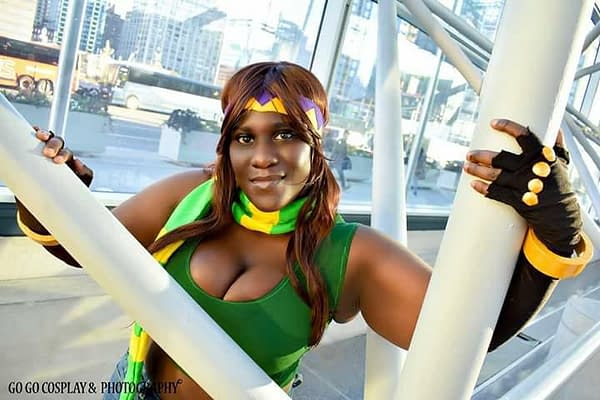 BC: How long have you been cosplaying? What interested you in cosplaying?
This is my eighth year cosplaying! I actually knew of cosplay since 2006 through Google and anime, but didn't actually do it until 2010. I love seeing people dress up as my favorite characters, and they look amazing. I wanted to join the cosplay community earlier, but was scared to do it because of the bullying I went through as a child. I had low self esteem and felt that I wouldn't look right because of my skin color and size. Even when the bullying stopped and I was able to make some friends, I still didn't feel great about myself. That's when my friends convinced me to come to New York Comic Con and cosplay with them! We brought our cosplays to school and changed into them after classes.
My first cosplay was Haruhi Suzumiya from The Melancholy of Haruhi Suzumiya! My cosplay wasn't perfect, but everyone was super supportive. I was even stopped for photos and did the dance with some people. I had fun and met so many wonderful faces. That's when I decided to go again next year. Years later I'm still cosplaying, and now I make some of my cosplays!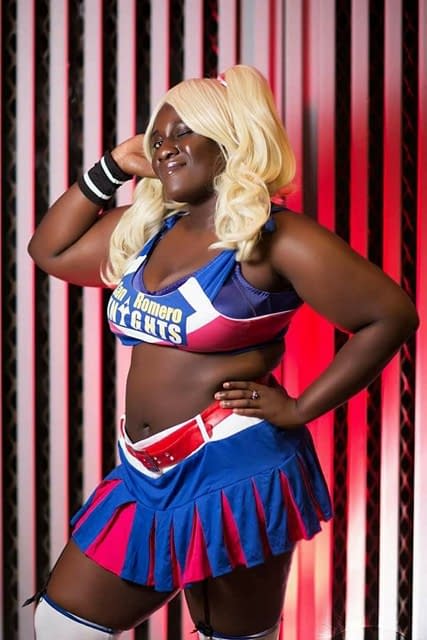 BC: What's your favorite cosplay?
I have so many cosplays that I really love! I would have to say Junko Enoshima from Danganronpa and Yoko Littner from Gurren Lagann!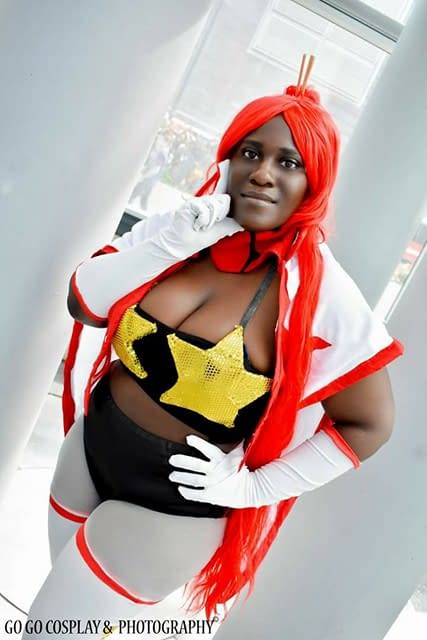 BC: What do you find challenging about the cosplay community? What would you like to see change?
Unfortunately there's so much discrimination if you're darker-skinned or plus-sized — and especially if you're both. Even if your cosplay is on point, people will undermine and put you down for not being "light enough" or "slim enough". Conventions have very few black and plus-sized cosplayers as guests. Plenty of black cosplayers would submit to sites and pages to be featured, but these places would reject them and mostly feature lighter-skinned and thinner cosplayers. Even some cosplay photographers are guilty for refusing cosplayers because of their size and/or skin color. They don't even put us in advertisements for photoshoots. If these places do accept black cosplayers, then they have to be the "acceptable" black cosplayers (they can't be "too dark" or "too fat"). Because of this, so many people believe that there's not a lot of black and plus-sized cosplayers. Black and plus-sized people see this and feel that they won't belong in the community for not being "light enough" or "slim enough".
What I would like to see is for more conventions, magazines, photographers, etc. to actually be diverse. Some of these places claim to be for all cosplayers, but they're not. They really need to feature black cosplayers of ALL shades and body sizes. Featuring all types once in a blue moon or just featuring certain types of black cosplayers doesn't count. We're just as amazing as any other cosplayer. There's so many of us out there and we're right under people's noses, but we either get ignored or receive hate for not looking a certain way. This is why it's important for these places to show some diversity in their guest lists, sites, portfolio, etc.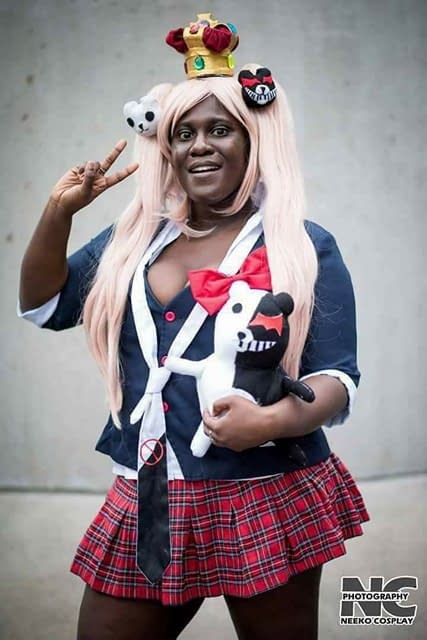 BC: What's your most memorable moment?
I have so many great memories, but one of my favorites was in NYCC 2014. I was walking in the show floor in my Junko Enoshima cosplay and a girl around my age stopped me for a photo. After she took the photo, she thanked me and said that the majority of Junko Enoshima cosplayers are usually thinner and lighter-skinned. Seeing me, a plus-sized and darker-skinned girl that looks like her, cosplaying her favorite character really made her happy! This is one of the reasons why I cosplay. I hope to encourage others, especially people that look like me, to cosplay and not let their skin color or size stop them from becoming their favorite character! Cosplay is rated E for everyone! Dress up as your favorite character and have fun! You will look amazing!