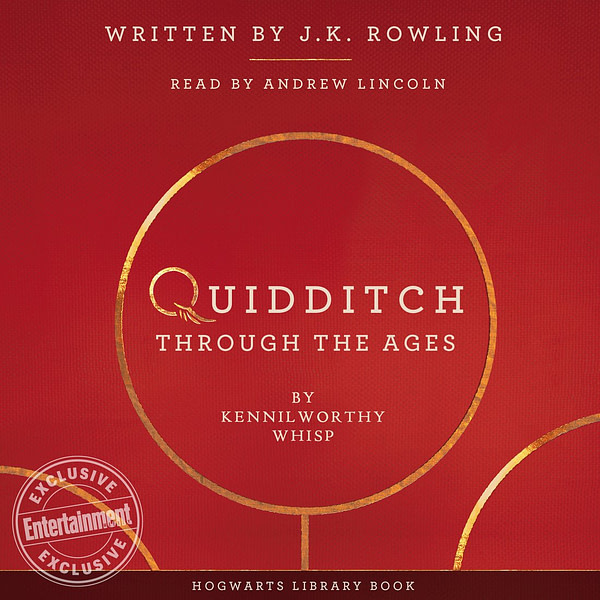 Just imagine how different the ending to Harry Potter and the Deathly Hallows would've been if Rick Grimes strolled up behind Voldemort while he was dueling with Harry and put two in his bald noggin from his .357 Magnum "wand"? Or even better, can you imagine how much easier it would've been clearing out the prison in The Walking Dead's Season 3 if you had a Hermione Granger around? While the chances of that happening beyond some very interesting fan fic are slim-to-none, Audible and Pottermore have teamed up to give you the next best thing possible. Entertainment Weekly reports exclusively that The Walking Dead's Andrew Lincoln has been signed to  narrate the new Hogwarts Library audiobook, Quidditch Through the Ages. Authored by "Kennilworthy Whisp" (Harry Potter creator J.K. Rowling) and featuring commentary from such characters as Ginny Potter and Rita Skeeter, the audiobook releases on March 15; and is now available for pre-order.
"We are thrilled to offer Audible listeners a brilliant performance of yet another essential component of J.K. Rowling's Wizarding World and bring this richly imagined universe to life through Lincoln's narration and the highly detailed sound design."

– Beth Anderson, Executive Vice President/Publisher, Audible
Here is the video of Lincoln's message to those in attendance at today's Harry Potter Celebration:
That Andrew Lincoln #HarryPotter audiobook is Quidditch Through The Ages, coming March 2018. Here's Andrew's video message at #HPCelebration pic.twitter.com/oiK7kVUZtS

— Aaron Sagers (@aaronsagers) January 27, 2018
"The Wizarding World is one that I always wanted to get the chance to step into. What makes this project so special, is not only that it allowed me opportunities to create something my kids love and enjoy, but it also supports great causes, like Comic Relief and Lumos." – Lincoln
Published for the first time in June 2001 by Scholastic, this marks the first time it has been available as a digital audiobook. Here's an overview of the book:
"Did you know that: there are 700 ways of committing a foul in Quidditch? The game first began to evolve on Queerditch Marsh – What Bumphing is? That Puddlemere United is oldest team in the Britain and Ireland league (founded 1163). All this information and much more could be yours once you have read this book: this is all you could ever need to know about the history, the rules – and the breaking of the rules – of the noble wizarding sport of Quidditch."
A portion of the proceeds from the audiobook will be donated to Comic Relief and Rowling's own international charity Lumos, which focuses on the world's most vulnerable children and young people.