Netflix Lands Rights To Coen Brothers Series 'The Ballad Of Buster Scruggs'
It would appear that Netflix is getting into the Coen brothers business. The streaming giant announced in a press statement on Wednesday that it will be the home for The Ballad of Buster Scruggs, the six-part Western anthology coming from Joel and Ethan Coen in 2018.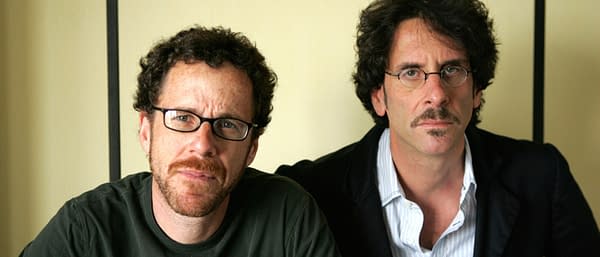 While the pair were much more succinct with their feelings on the new series ("We are streaming motherfuckers!"), Vice-President of Original Content for Netflix Cindy Holland made sure to emphasize just how important this announcement is for Netflix:
"The Coens are visionary directors, masterful storytellers, and colorful linguists. We are thrilled for Netflix to become home to the full range of their talents."

The Ballad of Buster Scruggs is described as an "event anthology" of six self-contained short stories unified by a shared time period and Western trappings. What makes this project of particular interest to Coen Brothers fans is that Scruggs is being developed as a multi-platform experience, combining both television and film aspects to the overall story. It remains to be seen whether that means the episodes will be edited into one long theatrically released film, or that the film will also be self-contained and different from the series. Earlier this summer, The Coen brothers released the following information on the six episodes:
"The Ballad of Buster Scruggs is about a singing cowboy.
Near Algodones is about a high-plains drifter whose own fecklessness dogs his attempts at bank robbery and cattle driving.
The third story, Meal Ticket, follows an actor and impresario of a traveling show.
The fourth, All Gold Canyon, is about a prospector who happily finds a gold seam but then unhappily finds an evil encroacher.
The fifth, The Gal Who Got Rattled, follows two trail bosses on the Oregon Trail and a woman on the wagon train who needs the help of one of them and who might be a marriage prospect for the other.
Lastly, The Mortal Remains, about the five very different passengers on a stagecoach of mysterious destination."
Tim Blake Nelson (O Brother, Where Art Thou?) has been cast in the lead role of Buster Scruggs; and joining him throughout the season are James Franco (Deuces), Stephen Root (Office Space), Ralph Ineson (Prey), Zoe Kazan (Olive Kitteridge), and Tyne Daly (Judging Amy). The Coen brothers will executive produce, write, and direct the project. Megan Ellison and Sue Naegle from Annapurna Television will also serve as executive producers, along with longtime Coen brothers collaborator Robert Graf.