UPDATING ON SITE! 'Stormy' of the Century: Bleeding Cool's 60 Minutes/Stormy Daniels Live-Blog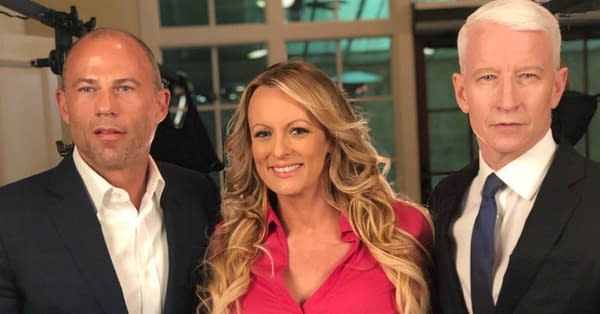 UPDATE:
UPDATE:
UPDATE:
UPDATE: Wise words from Jenna Jameson…and this isn't over any time soon…
UPDATE:
UPDATE:
UPDATE: I'll wager a dozen strawberry frosted doughnuts that Mueller's looking at those payments…
UPDATE: "I might even take a vacation on her dime." Yeah, that sounds like intimidation…and now we're getting to the NDA (non-disclosure agreement)
UPDATE: Duuuuuuuuuuuuude…that's the kind of stuff mob concigliari's (sp?) do for their "clients"…and they don't use their WORK EMAIL!!!! Wow…
UPDATE: That's some sick ****: so Cohen could be in trouble if he gets his money back: like going to the airport to get the money even though the feds are watching the locker
UPDATE: And now we're getting to the issue of legal campaign issues…which it would tough to argue that $130,000 didn't help Trump's campaign
UPDATE: Sorry…tech issues! Daniels says she signed the NDA for fear of legal repurcussions: "They can make your life hell in many different ways."

Welcome to 'Stormy' of the Century, Bleeding Cool's 60 Minutes/Stormy Daniels Live-Blog!, where we're covering Sunday night's televised perfect storm of pop culture, presidential politics, and the press. Your bestest buddies from Bleeding Cool are set to ride shotgun with you as we guarantee a unique take on just how screwed up things have really gotten. Porn actress-director-screenwriter Daniels (The 40-Year-Old Virgin, Knocked Up) sits down with 60 Minutes' Anderson Cooper to talk all things — and it looks like it's going to be all things — Donald Trump (aka "David Dennison").

● This page updates… but just to be on the safe side I strongly suggest you refresh every now and then to make sure because I've been known to ramble often and quickly.
● If you're going to social media to talk about what we're talking about, go with: #bleedingcool and #bclive.
● While you're waiting (or if you just need a breather from my double-barreled cult-of-personality), check out some of the cool topic-related stuff we have for you below.
● So that's it! Our live-blog site goes live at 6:45 p.m. ET.

Earlier this week, the attorneys for Daniels and Cohen engaged in a heated back-and-forth over whether Trump was party to a non-disclosure agreement during an interview with CNN's Cooper:
Daniels's attorney Michael Avenatti joins MSNBC's Ari Melber to discuss threats made against his client and reveal that he has yet to receive "a single request" to appear on Fox News:
"I've been invited to give interviews to literally hundreds of media outlets around the world. What is shocking to me is, I haven't received a single request, not one, from Fox News. And I've cooperated with them just like I have with other networks, and I've been prompt in attending to their request. But I haven't received a single interview request, not one, from Fox News." – Michael Avenatti
Pastor Robert Jeffress takes to Fox News to attempt to justify how "evangelicals" can square claiming to be people of "Christ's faith" and be cool-like-Fonzie with both Trump's past and continued actions:
Just a little reminder for those lucky enough to be a little late to the game on how we got to this place:
In January 2018, The Wall Street Journal reported that Trump attorney Michael Cohen had paid Daniels $130,000 several weeks before the 2016 presidential election for her to keep quiet about an alleged affair she had with Trump 12 years earlier through a non-disclosure agreement (NDA).
Now, Daniels is looking to tell her tale, and her attorney Avenatti has proven himself to be formidable legal and public relations foe to Trump and his team. From publicly offering to return the money paid through the NDA to alleging that the agreement was null and void because Trump's signature is absent from it, Avenatti's maneuverings have put the President in a tough spot ahead of Sunday night's 60 Minutes broadcast.