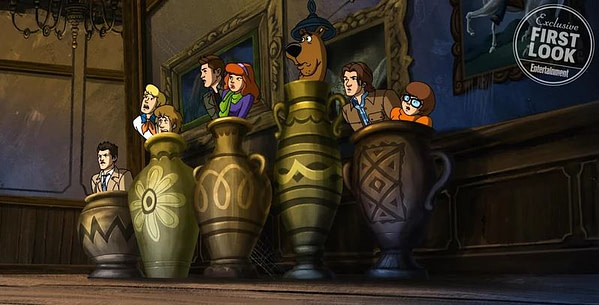 With three weeks to go before Supernatural fans get to fix their eyeballs on the show's highly anticipated crossover with classic animated character Scooby-Doo and the gang, the CW is giving us a first look at Season 13's sixteenth episode 'Scoobynatural'. Along with our first images, showrunners Robert Singer and Andrew Dabb offered fans a few more teases of what to expect in their interview with Entertainment Weekly.
Here are some of the things we've learned (so there might be spoilers):
●  After going two-out-of-three falls with a stuffed dinosaur, a grateful pawnshop owner (faint smell of Friday the 13th: the TV Series here) offers the guys a free television as thanks. Sam's (Jared Padalecki) hesitant, but Dean's (Jensen Ackles) never one to turn down a potential addition to the "Dean Cave." Bad move, because the Winchesters find themselves transported into a Scooby-Doo cartoon.
"Once they get over their amazement at being in the cartoon, two things happen. They say, 'We've been in a situation like this before with the Trickster and I think we're supposed to play this out.' And then they realize they're in a Scooby-Doo cartoon, which makes Dean incredibly excited because Scooby-Doo was his favorite cartoon growing up." – Singer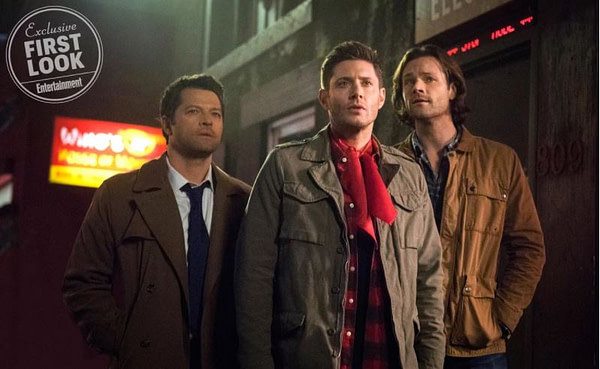 ●  The episode that the guys find themselves in? 'A Night of Fright Is No Delight', from 1970's Scooby-Doo, Where Are You?!?. One big difference: with Sam and Dean there, the "episode" begins to take on a Supernatural-level of danger; and Dean's "Scooby-Doo IQ" might just save their lives. "They walk into an old episode of Scooby-Doo, but it may end up being a new episode of Supernatural," explains Dabb.
●  Having an extensive knowledge of Scooby-Doo also means that Dean has some very "interesting" takes on Scooby, Shaggy and Velma — but saves the best for the ascot-wearer and his "girlfriend": "Dean came of age in a time before the internet when Daphne wasn't so bad," Dabb says. "Dean has very strong opinions on all the Scooby characters, but especially Daphne and Fred."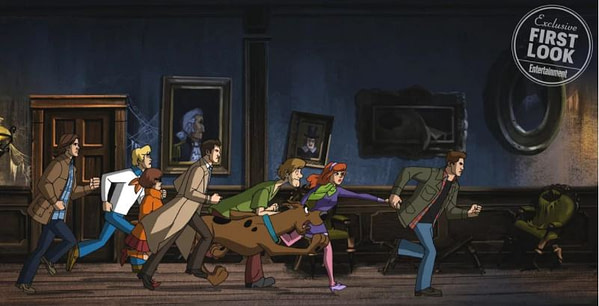 Back in May 2017, Supernatural stars Ackles and Padalecki revealed at The CW's upfront panel presentation that there would be a "colorful" episode during the show's 13th season and that it would taking place in the "fully animated world of Scooby-Doo." Flash ahead to October 2017, when executive producer Brad Buckner gave an update on the project; calling the episode "charming and very funny" and adding: "There's a certain amount of expertise [by] a certain brother about what Scooby world is. We have fun with that."
Show producer Jim Michaels took to Twitter in late January to tease the beginning of production on the show's animated crossover. In his tweet, Michaels included a production photo that revealed the crossover will take place during the 16th episode of the season, entitled 'Scoobynatural'. Singer directs and executive produces the episode alongside Michaels, Dabb, and Phil Sgriccia. Michaels also included the following message: "Time to tech survey in the Mystery Machine! Episode 16! @cw_supernatural #supernatural #spnfamily".
You can see the script cover page for yourself below, showing The Winchesters' Impala parked in front of a burning home: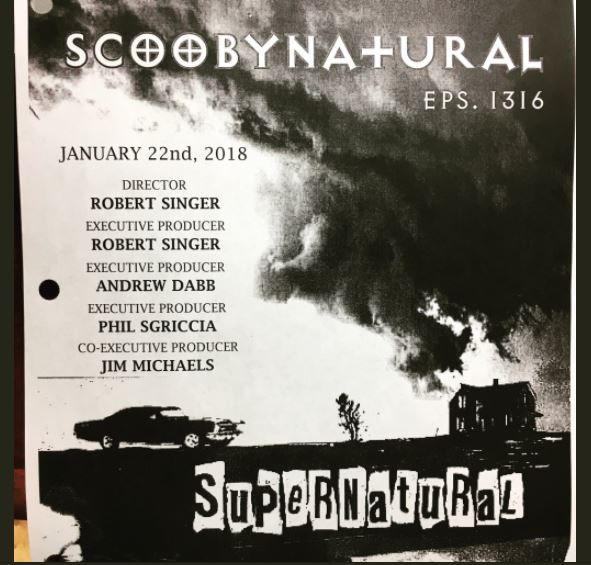 A small group of Supernatural fans who are going to be around the Los Angeles, California, area on March 20th will be in for a very cool treat. This year's PaleyFest television festival will not only be holding a session for the CW's long-running hit horror series, but will also world premiere 'Scoobynatural', which airs to the rest of the world on Thursday, March 29th.