Fans of the Grant Morrison/Darick Robertson comic book mini-series Happy! are going to have to wait a wee bit longer to see if the cabler got it right. SyFy announced that their comic book adaptation series is being pushed back from its original late September air date to Wednesday, December 6th at 10 p.m. EST.
Spearheaded by co-writer/director Brian Taylor (Jonah Hex, Crank) and co-writer/executive producer Morrison, the series does have some new images to tide you over (thanks to Entertainment Weekly) for the extra 2-1/2 months wait: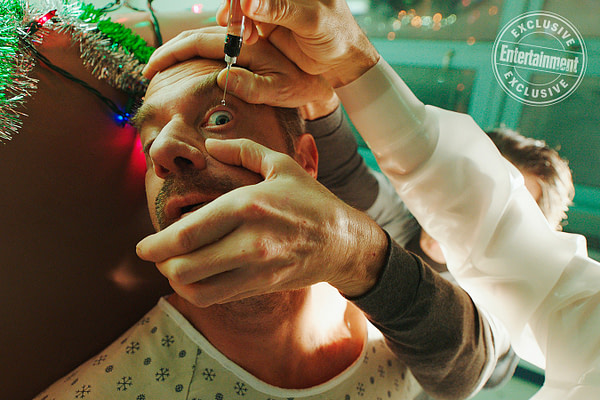 Happy! is based on New York Times best-selling author Morrison and Robertson's graphic novel of the same name. The series follows Nick Sax (Christoper Meloni), an intoxicated, corrupt ex-cop turned hit man, who is adrift in a world of casual murder, soulless sex and betrayal. After a hit gone wrong, his inebriated life is forever changed by a tiny, relentlessly positive, imaginary blue-winged unicorn named Happy (Patton Oswalt).
Joining Meloni and Oswalt for the 10-episode season commitment are Joseph Reitman (Money Monster) as the shows' crazy and delusional main villain; Lili Mirojnick (Friends With Benefits) as a homicide detective forced to sacrifice her ideals to protect her job and elderly mother; Patrick Fischler (Twin Peaks: The Return) as Smoothie; Ritchie Coster (True Detective) as Mr. Blue; and Zabryna Guevara (Gotham) as Amanda Hansen.
Here's a look at SyFy's Happy!:
Happy! is executive produced by Meloni, Neil Moritz, Pavun Shetty, Tobi Jaffe and Patrick Macmanus, with Macmanus serving as series showrunner. Here's the original solicitation for the 2013 comic book series from Image Comics:
"Meet Nick Sax, a corrupt, intoxicated ex-cop turned hit-man, adrift in a stinking twilight world of casual murder, soulless sex, eczema, and betrayal. With a hit gone wrong, a bullet in his side, the cops and the mob on his tail, and a monstrous child killer in a Santa suit on the loose, Nick and his world will be changed forever this Christmas.

By a tiny blue horse called Happy! "