 AMC and Robert Kirkman made it official during Sunday night's edition of Talking Dead with host Chris Hardwick, announcing that Lennie James would be reprising his role as The Walking Dead's Morgan Jones in the upcoming fourth season of Fear The Walking Dead. James appeared on Talking Dead via satellite for the formal announcement, and stated that he was in Texas to begin shooting FTWD's fourth season tomorrow. Hardwick also announced that FTWD would broadcast a portion of the first day's filming live on Facebook Live on Monday, November 27, at 4:00 pm ET.
Interestingly enough, James spoke of wrapping up TWD's eighth season as if it were his last (referring to missing the crew "very, very much" and Melissa McBride (Carol) referencing being "all cried out" over James). Hardwick then read a message from show EP Scott M. Gimple that Morgan has "a lot of story left in The Walking Dead," which really wasn't the strongest vote of confidence in terms of Morgan's long-term survival.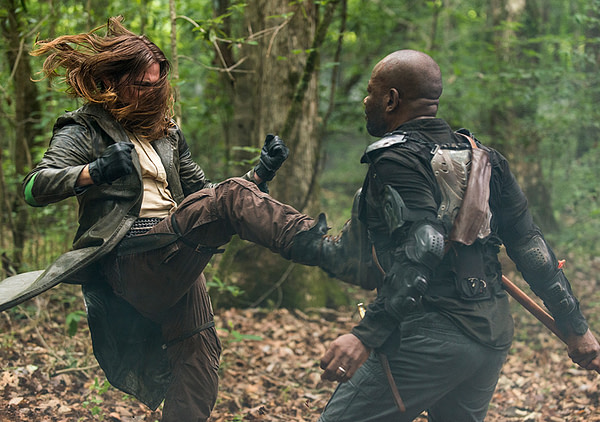 The news comes weeks after Kirkman confirmed during The Walking Dead's New York Comic Con 2017 panel that the two shows would finally acknowledge each others presence at some point during either FTWD's fourth season or TWD's ninth season. Since that time, the show's creators have been teasing fans with a "The Worlds Collide" social media campaign that even got recently cast FTWD star Jenna Elfman involved. On Friday, AMC revealed that the identity of the person (or thing?) that would link the two worlds together would be revealed Sunday night, after the premiere broadcast of TWD's sixth episode of Season 8: 'The King, the Widow and Rick.'
THIS IS IT. The crossover character will be revealed THIS SUNDAY on Talking Dead. Tune in 11/26 at 10/9C. #TWD #FearTWD pic.twitter.com/lujApP9K54

— Talking Dead (@AMCTalkingDead) November 24, 2017
Fear the Walking Dead returns for its fourth season in 2018, with production expected to begin shortly in Austin, Texas. The upcoming season marks the first for new showrunners Andrew Chabliss and Ian Goldberg; with Garret Dillahunt (The Gifted, The Mindy Project) and Elfman (Dharma & Greg, Friends with Benefits) cast as series regulars.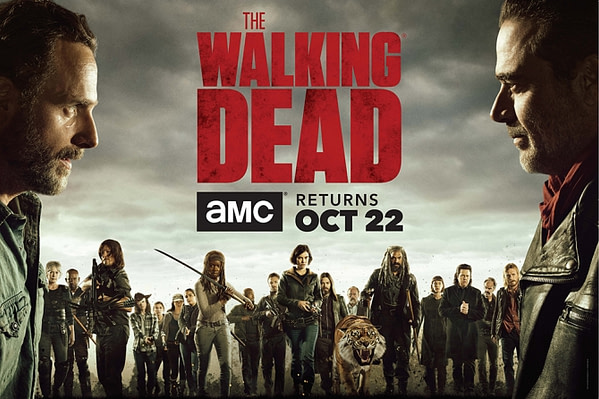 The Walking Dead has three episodes left before it's mid-season break, and just completed production on the series' 15-episode season. Here is AMC's official synopsis for the eighth season:
"Last year, Rick Grimes and his group of survivors were confronted with their deadliest challenge yet. With the comfort of Alexandria, they let their guard down, only to be reminded how brutal the world they live in can be. The introduction of Negan and the Saviors broke our group.

Feeling powerless under Negan's rules and demands, Rick advocated the group play along. But seeing that Negan couldn't be reasoned with, Rick began rallying together other communities affected by the Saviors. And with the support of the Hilltop and Kingdom, they finally have enough fire power to contest the Saviors.

This year, Rick brings 'All Out War' to Negan and his forces. The Saviors are larger, better-equipped, and ruthless — but Rick and the unified communities are fighting for the promise of a brighter future. The battle lines are drawn as they launch into a kinetic, action-packed offensive.

Up until now, survival has been the focus of Rick and our group, but it's not enough. They have to fight to take back their freedom so that they can live. So that they can rebuild. As with any battle, there will be losses. Casualties. But with Rick leading the Alexandrian forces, Maggie leading the Hilltop, and King Ezekiel leading the Kingdom — Negan and the Saviors' grip on this world may finally be coming to an end."