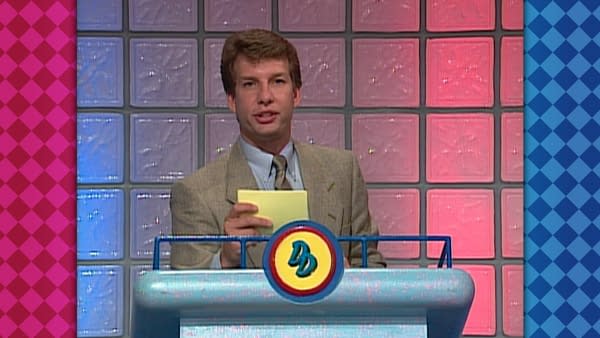 Nickelodeon announced today that Marc Summers will return to host a one-off Double Dare event at Comic-Con International: San Diego on Friday July 22nd to celebrate the programs thirtieth anniversary.
The show originally debuted on October 6th, 1986 and featured teams of kids answering trivia questions or facing "the physical challenge." The winning team would then negotiate an obstacle course of refurbished playground equipment and colored whipped cream. The original show ran until 1993 and was revived for a brief time in 2000.
The network's Splat Facebook page will broadcast the Comic-Con special as a new set of red and blue teams test their trivia knowledge and take on some of the show's famous physical challenges, including the Wringer, Down the Hatch, the Human Hamster Wheel and the Double Dare Nose from the obstacle course.
The Nose will also be on display at Nickelodeon's booth inside the convention center.
Following the convention, The Splat will keep the celebration going on air with Double Dare Week — hosted by Summers — beginning Monday, July 25, on TeenNick. Each night will feature episodes from the original series, Family Double Dare, and Double Dare 2000, along new Double Dare game interstitials, exclusive Snapchat photos from the live event, and clips from the most memorable moments from the game show.
Enjoyed this article? Share it!