SDCC '15: Building A Fun Interview With Lego Brickumentary Artist Nathan Sawaya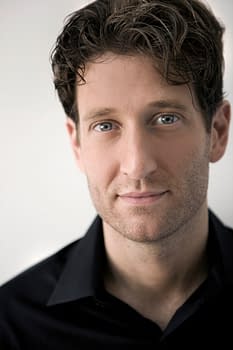 At the end of July, A Lego Brickumentary will be released in theaters, on iTunes, and On Demand. Directed by filmmakers Daniel Junge and Kief Davidson, this fun documentary explores the history of the toy, as well as the vast amount of different uses for the Lego bricks, including in engineering, medicine, and even architecture. And of course, play. One of the subjects/stars of the documentary, Nathan Sawaya, is an artist who has created fantastical art pieces out of the bricks, and you would definitely recognize his work if you saw it. Sawaya was gracious to take some time out of his busy schedule at Comic-Con to answer a few of my questions.
Cameron Hatheway: So in the documentary we saw that you grew up loving Lego, went off to law school, and slowly became reacquainted with them after a long day at the office. When you started becoming more involved with your creations, what were the reactions of your co-workers? Did they think you lost it?
Nathan Sawaya: That's a great question because it was a mixed reaction, to say the least. I had some friends who thought it was great, my family was fairly supportive, and I had some colleagues who were both confused and some were jealous. Because when I decided to make that transition from being a lawyer to being an artist, and going from legal documents to Lego, they were like, "Umm, so you get to follow your dreams, and we're still here at the office?" And one of the things that I found in my journey is I did take this big transition from going from corporate, to being an artist and playing with toys, and I'm constantly asked about it and how can people make transitions in their life. And there is that whole process of finding what you want to do, following your passion, but it's not always going to happen immediately. And that's what I tell people, "It's not something that just happens the next day." If you want to be a rock star and quit your day job, that's awesome, but you're going to have to take a guitar lesson or two first.
CH: When people see your pieces in the movie, they'll suddenly realized that they've seen it before online or on television. How did Daniel and Kief first approach you, and what were your first thoughts of having a part of your life documented?
NS: It was great, actually. They approached me, we had a couple different conversations of how this could work, and I was working on this brand new show for New York City, where it was going to be my biggest show to date, and so it was perfect timing. I thought, "You know, this is probably a great chance for someone to come in an actually document what's happening in the shop and the opening of this new exhibition. So they really just cold called me and we made it happen. I remember I met Daniel at LAX because we were both flying through—he was leaving and I was coming in, so we found a 15-minute window where we crossed so we could just meet in person and chat about it, and then it went from there.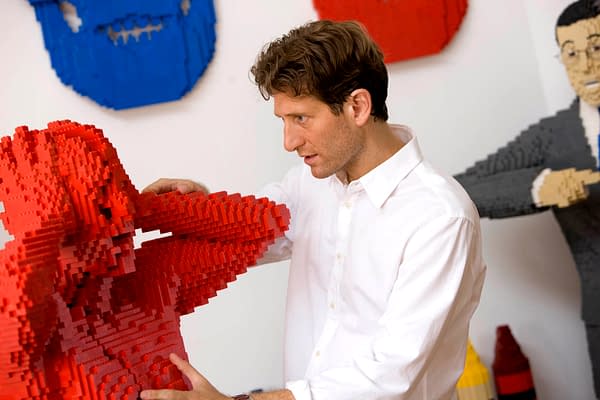 CH: In the film when putting together the Times Square show, you're awfully nervous at one point about what the art critics would say. What did they end up saying about the show?
NS: The critics have been great. The critics are critics, right? Some are going to pick apart certain pieces, and I'm fine with that because they're taking it seriously. I've been doing this for years, so now the critics are taking it very seriously and if they pick apart a piece or two, that's fine. I'm fine with that. The reviews that came out for that particular show were great, I don't remember specifically, but I think the New York Times wrote a very nice piece about it. And a couple of other critics did some really nice pieces on the show, so for that I'm thankful. But I do know that I'm not building for critics, I'm building mainly for myself, and now I realize that's not true, I'm building for an audience that I can hopefully inspire to become artists themselves. So that's really where my mission has come around to.
CH: Have you tried making art out of other types of products or toys, or will Lego always be your number one choice?
NS: Before I was doing full-time Lego artwork, I had worked with more traditional media; things like clay, wire, and I had done a series of sculptures out of candy. And sculpting with candy is like sculpting with Lego, it's additive in nature, using these tiny pieces to make these larger forms, so I've done those types of projects. But now I have over 4.5 million bricks in my art studio, and so I think I'll stick with Lego for a little while.
CH: But with the candy though, it sounded like a sweet deal.
NS: [Laughter] It was until there was ants.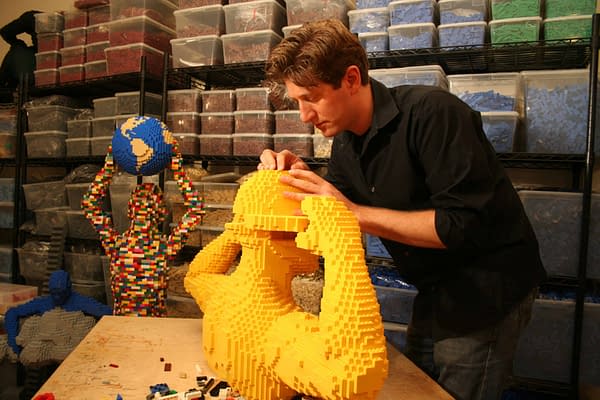 CH: When you're not creating art for yourself or inspiring others, do you ever just open a box and follow the instructions? Do you have a favorite themed series or franchise of Lego?
NS: I'll breakout a set every now and again. It's so funny, because I don't keep any Lego at my home, I actually keep all the Lego at the art studio. But there are times that I just need to build a set, just breakout some new set that's just come out and I just want to put it together, so yeah it happens every once in a while. And of course my parents still give me Lego for every birthday, so what are you going to do?
CH: Have you had that wonderful experience of stepping on a Lego brick with bare feet in the dark yet?
NS: Now I will say, I don't even feel it anymore. It's just calluses, it really is. In fact, I think when I hired Nellie to work in the shop, I said, "You know, you're going to have to walk across all these loose Lego bricks." Kind of like walking across hot coals, and that was kind of a test to see if she could handle working in the studio.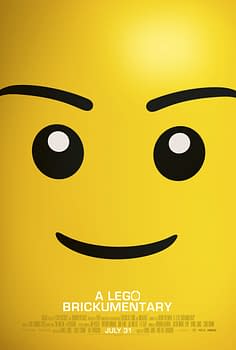 CH: Besides your own part being documented in the film, what was a favorite part of yours to see documented?
NS: I think Kief and Daniel did an amazing job of capturing so many different aspects of this toy, this product, this brand, but also this medium. Seeing some of the works was amazing, of course the Rivendell piece was amazing, but also seeing some of the kids just going out and being inspired to create. But also seeing Lego bricks in the classroom, and used for medical therapy, stuff like that. That shows you the power of this toy—it's a universal thing. I've had Lego bricks all my life, I got my first set when I was 5-years-old, and for me it's always been, "Oh, it makes sense, it's very universal." But with the Art of the Brick we've been traveling to different parts of the world, and we took a show down to Africa and I had met folks who had never heard of Lego, they just hadn't heard of it. And yet, when they had a few bricks in their hands, they immediately got it, they understood what the appeal was, and that's the power of this toy. You don't even need language, everybody just speaks with the bricks connecting.
CH: What's next for you? Are art shows always happening, are you looking for that one grand piece? I remember you saying at the Q&A last night that your favorite project is always the next one.
NS: Yeah it's very true, it is the next one, and the next one is going to be an interesting thing. I really wanted to look at themes of good and evil, and so for this project I've turned to comics. So I will be working with comics for my next project.
CH: So can we expect to see you here next year at Comic-Con debuting it?
NS: Well you might be hearing about it by the end of the day, in fact. I have a panel tonight with Jim Lee, so we're working on something. So it will be a pretty interesting project. I do like collaborating with other artists, I've collaborated with other artists in different fields, and it's always exciting to bring different aspects to the project, so we'll see.
Special thanks to Nathan for taking some time out of his busy schedule, and Liza Nedelman for helping set the interview up. A Lego Brickumentary will be in theaters, on iTunes & On Demand July 31.
Cameron Hatheway is a reviewer and the host of Cammy's Comic Corner, an audio podcast. You can construct him out of Lego on Twitter @CamComicCorner.