I'm off this week. The time I usually use to write this column has to be spent at a 3-day conference, so instead of not writing anything, I've decided to indulge in some SHAMELESS SELF-PROMOTION instead. I figure I've spent more than a year promoting other people's work almost every week, so what the hell, might as well do this rather than not have a column today.
So there was all this talk lately about Alan Moore saying he's turning his back on superheroes once and for all. Well, here's the last superhero comic he read that he liked.
I wrote it.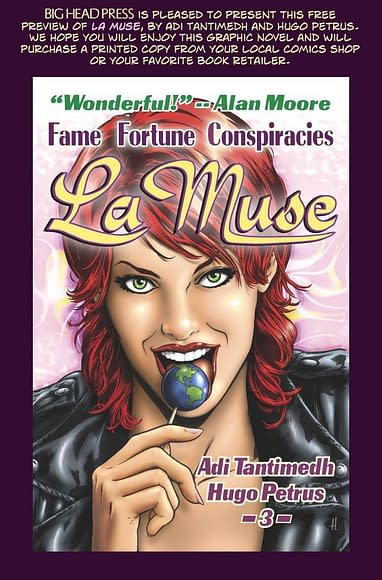 LA MUSE was drawn by Spanish artist Hugo Petrus and coloured by -3-. That's his nickname. It's not the number of the graphic novel. The book is completely self-contained without a previous book or one after.
This is what Alan Moore said about it, which we put on the back cover:
Wonderful!

Fast, stylish, sexy, intelligent and above all, contemporary, the purveyors of today's sprawling superhero culture would do well to read Adi Tantimedh and Hugo Petrus' LA MUSE and learn how to do these things properly.

A genuinely accomplished, imaginative and original piece of work.
It was interesting to read what Alan said about current superhero stories mainly being about being power fantasies rather than imagination. I had those thoughts myself when I decided to write LA MUSE. I was also tired of the increasingly po-face angst that passes for depth in superhero stories these days. Where are the laughs? I was tired of female characters being portrayed as joyless and moody. I was especially tired of the convention of most superhero stories where the superhero has awesome powers and feels guilt about it – let's be honest here, anyone who gets a world-class superpower would fucking love it. I hate that Sex in superhero comics is portrayed as puerile and as something the women frequently get punished for. I was tired of superhero stories where someone as powerful as Superman doesn't change the world, which is where I think a lot of them aren't thought through properly. I decided to write a "superhero in the real world" story that takes the internet, politics and celebrity culture into account, since very few of them do, which still baffles me. I also wanted to sneak in the notion that the "superhero" wasn't necessarily a good idea or the good guy in the story.
You can read LA MUSE and compare it with all the superhero comics being hyped right now. As Borges said, books are pretty much in dialogue with and reaction to each other after all.
LA MUSE was originally serialized on Big Head Press' website weekly, and I would have been perfectly happy to keep the whole book on the web, but they decided after the book concluded, perhaps rightly, to just offer the first chapter of the book on the site as a preview to entice people to buy it. That's 224 pages in full colour for $19.95 or less.
One of my greatest moments of joy was when right-winger Mike Baron wrote a review condemning the book in exactly the ways I expected someone like him would, including totally missing that the story was comedy. That put me in a good mood for a whole week. I don't have the link here and I'm too distracted to google for it. I'm sure you can find it if you really want to read it.
Anyway, if you want to buy LA MUSE, you can ask your comic shop to order it, or you can order it from amazon. In fact, Big Head Press has provided a retail page that links to both Amazon and Barnes and Noble. It's also available in the UK from Amazon's UK page.
Big Head Press will have their own table at SDCC and will be selling copies of LA MUSE as well. I won't be there, though, as I'm busy elsewhere. They're an interesting publisher, Big Head. They may publish libertarian-theme science fiction comics by L. Neil Smith, and a horror comic by Mike Baron, but they also publish me and Steven Grant's funny and snarky ODYSSEUS THE REBEL.
With that, I'm off for three days of lectures and trying to avoid identity theft.
Normal service will resume next week.
Off preparing notes at lookitmoves@gmail.com
© Adisakdi Tantimedh
Enjoyed this article? Share it!