Things have come full circle in the saga of disgraced orange goblin Hulk Hogan and NXT superstar Velveteen Dream. Hogan's final act in WWE before being fired for a leaked racist rant in 2014 was to eliminate Dream, then known as "Patrick," from WWE's Tough Enough reality show competition. Four years later, it's Velveteen Dream that delivered bad news to the Hulkster: Hogan would not be invited to redeem his soiled image by acting as Velveteen Dream's manager and mouthpiece.
Hogan made the offer to Velveteen Dream on Twitter Thursday:
Yo when VelveteenMania hires me as his manager,then we will have "all the gold,HollyWood style". Brother. HollyWoodHHoganLife

— Hulk Hogan (@HulkHogan) June 19, 2018
However, Velveteen Dream responded, and just as Hogan did on that fateful episode of Tough Enough before his firing, Dream refused to use his "save" to help out the ailing Hulkster.
https://twitter.com/VelveteenWWE/status/1009972953960853504
Is there still a chance that Hogan will "Hulk up" and make a comeback in WWE? Despite his explicitly racist, n-word-laden rant which was filmed in a secretly recorded cuckold porn tape with the wife of Florida radio shock jock Bubba the Love Sponge and leaked as part of a politically-motivated trial against Gawker funded by conservative Paypal billionaire Peter Thiel, WWE has been making motions that indicate plans to bring him back. The company has repeatedly made clear in statements that Hogan would only be brought back to help others learn from his mistakes, but it's unclear how Hogan's extremely specific predicament is something that can actually be taught.
More likely, the company is eyeing those Hulkamania merchandise sales and big arena nostalgia pops but remains wary of public backlash for associating with Hogan. To that end, Hogan has been making a half-hearted effort to rehab his image before a potential return, appearing on tabloids like TMZ to apologize "not just to the black wrestlers, to all the wrestlers" for his rant, and say at an induction speech for the Boys and Girls Club of America Hall of Fame that "I just want people to judge me by my actions, not a few misspoken words. To those few fans who feel (hurt), I'm forever sorry, and I'll do whatever I can to make them feel comfortable with me."
Some of the "misspoken words" from that fateful day:
I don't know if Brooke was ****ing the black guy's son. I mean, I don't have double standards. I mean, I am a racist, to a point, ****ing ****ers. But then when it comes to nice people and ****, and whatever. […] I mean, I'd rather if she was going to **** some ****er, I'd rather have her marry an 8-foot-tall ****er worth a hundred million dollars! Like a basketball player! I guess we're all a little racist. ****ing ****er.
A clear-cut case of "you say tomato, I say ****ing ****er" if we've ever seen one. Our prediction is that Hogan will make a WWE appearance by SummerSlam.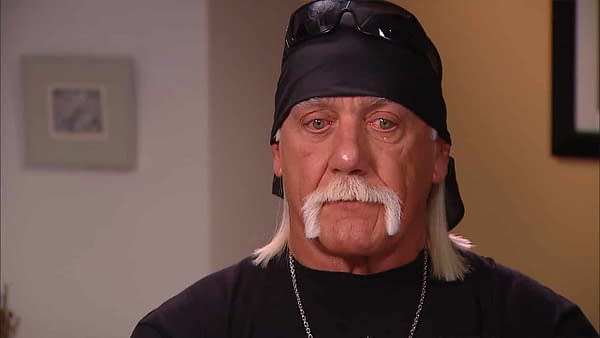 Enjoyed this article? Share it!