Netflix series House of Cards 6th and final season is almost here, and that means more behind-the-scenes goodies and new images are being released. Perhaps you'll recall all the hullabaloo with the firing of Kevin Spacey, and the uncertainty of the series continuing without one of it's stars.  Thankfully, Netflix knows the awesome power of one Robin Wright, and decided to proceed with a final season with her in the lead.
In these 8 images from season 6, we get an idea of just how powerful Wright's Claire Underwood has become. We also have a glimpse of the new Washington cast of Diane Lane, Greg Kinnear, Cody Fern, Michael Kelly, Jayne Atkinson, Patricia Clarkson, Constance Zimmer, Derek Cecil, Campbell Scott and Boris McGiver.
Lane and Kinnear will play siblings Annette and Bill Shepherd, leaders of Shepherd Unlimited, an industrial conglomerate whose family foundations are a powerful force in the American political sphere. According to Netflix, "The two share a vision for the future of America, as well as a complicated past with the Underwoods."
Check out the images: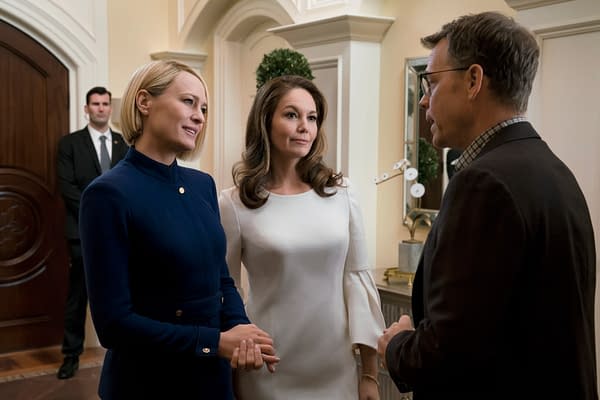 House of Cards season 6 premieres on November 2nd 2018 on Netflix, just before the midterm elections.  The previous 5 seasons are available to stream on Netflix now.
Enjoyed this article? Share it!