[Editor's Note: This Game of Thrones NYC cosplay write up comes to us from Bleeding Cool contributor Christine Marquet, featuring images from photographer Jason Laboy.]
On the first weekend of March 2018, a determined group of cosplayers got together in NYC to get awesome pictures of their Game of Thrones costumes. The GOT Winter Photoshoot took place in Central Park on a brisk Saturday afternoon in the wake of a Nor'easter.
The high winds made for some welcome shots of capes and wigs blowing in the wind, though the storm didn't provide the Northerners with the Wintery landscape they may have hoped it would produce.
Weather aside, spirits were high at the Belvedere Castle landing in the NYC park, where the 18 cosplayers joined to emulate favorite characters and join in their shared adoration for the HBO series.
Based on the A Song of Ice and Fire book series penned by George R. R. Martin, the costumes, hair and makeup in the HBO series are breathtaking and inspire cosplayers and fashionistas alike with every new ensemble they dazzle us with. Unsurprisingly, the show has been recognized for its achievement in these departments; Michele Clapton and her team has received no small amount of nominations and awards.
Anyone who has tried their hand at recreating a costume or the look of a character knows it's all in the details and with the attire from the world of Westeros this is no easy task. You can find groups and meet-ups at cons all over the world getting together to pose in their fashion from the Seven Kingdoms, often with more than a few of the same character in the same costume.
There were mostly a lot of Jon Snows (we call a collective known of Jons a 'bastard'), Khaleesi, and Melisandres (aka The Red Woman). The robes and elegant fabrics are somewhat out of place on the convention room floors, and the embroidery and beading detail of your epaulettes can get lost in a sea of season 7 Daenerys in Black.
That undesirable backdrop and the hectic nature of the cons is partially what inspired cosplayer Jaclyn Fox (Casterly Fox) to organize a group photoshoot of her favorite GOT cosplay companions:
"I really just wanted to bring the very best Game of Thrones cosplays together without overlap of characters to get some really nice screen accurate shots! We all work so hard on these cosplays, and I really wanted to showcase everyone with the best photographers I could find! I felt that doing this shoot would further strengthen the bond that we already share due to our love of Game of Thrones."
Though the character that she cosplays as inspires animosity and discord, Casterly Fox's Cersei is the photoshoot facilitator to whom we bend the knee in the NYC area. At NYCC photoshoot meet-ups, she's reenacted the Lioness of Lannister's greatest moments; from ruling as the dazzling Queen Regent to her breathtaking walk of shame and deliciously cruel kiss of death.
When Casterly Fox invited other GOT cosplayers near and far to gather, we did not refuse the call. Fox managed to secure an accomplished cosplay photographer Jason Laboy to capture our Westerosi looks and help us to reenact pivotal scenes from the series, of which he is also a fan.
Laboy, who is a staff photographer for Cosplay Culture Magazine, has been working with the new social networking app VERO to "make the platform a better place for cosplayers to share their content." He even suggested users attended photoshoot in app.
The coordination of the shoot had been in the works since the 2017 NYCC in October and there was no shortage of re-casting due to conflicts and last min travel disruptions. We even decided late in the game to add a second day to the shoot, as Night's Watch Jon Snow V.Soriano, one of the originators of the meet-up, learned he'd be travelling for work on the day. It's no small feat to get a group coordinated to all convene in costume for a non-con related meet-up, and not everyone was local. Kira Kelly, who was cosplaying as Sansa, traveled from Atlanta just for the weekend to be part of the shoot.
Kelly recounts:
"Getting a group of this size together from so many far-flung places is virtually impossible. The fact that so many people traveled hours to be here for this shoot says a lot about not only the caliber of talent involved but the love people have for cosplay and becoming their character."
While yours truly is typically a devout silver-haired Targaryen, my sloppy hemlines and dark hairline didn't make the cut for the "creme de la creme" of GOT cosplayers, so when I saw the casting call for an Ygritte I welcomed the opportunity to turn in my waist cincher, bare my freckles, and go red. Spoiler alert: I opted for a wig over a dye job.
On Flickr I found excellent reference photos from every angle, taken at the GOT Exhibition of Ygritte's season 4 fur frock. I preferred the earthy tones of her South of the Wall Wilding look to her debut season's bulky grey Eskimo-like bundle. I went with a sleek marbled imitation leather-looking fabric for the pants and chestnut brown faux shearling for the coat, which was shorter than I would have liked, but you wouldn't believe how pricey those long fur bolts can be.
When I asked a fellow pair of shoppers in the faux fur section at Mood Fabrics what project they were working on, I was thrilled to learn it was a custom cape for a Black Panther midnight showing.
Piecing together Ygritte's coat and pants was an easy task compared to Daenerys's tailored dresses and couture capes. The reference photos showed patches in the hide and tufts of fur lining spilling out at the hems. I like to think Wildlings would scavenge fallen comrades' superior cloaks and patch up the holes from their mortal wounds with the hides from the next hunt.
Once the base shearling was mapped out and sewn together, I cut hap hazard holes in the torso and patched them up with assorted faux fur trim from scarves, gloves, and hats. I was a fiend for furry-trimmed items at the cold weather accessories sample sales. Having run out of my coat material, I pieced together scraps and trim alike for the sleeves — and where I didn't leave enough room around the knees of my pants, more bits of scraps sufficed.
This costume is one where mistakes and holes being filled in by available piece goods brought authenticity and unplanned details that really made the look.
A bow and arrows are fun props to work with and way less temperamental than dragons. I went with a basic wood set from Amazon and stained and dressed it with (what else?) scraps from my costume fabric. A quiver was fashioned from a packaging tube, and then everything including the costume was weathered.
I took tips from Lightning Cosplay tutorial on weathering and mostly just used acrylic paint and sandpaper. From a distance the weathering came out good, but for a con I'd probably want to do more with the sanding and distressing.
Braving the high winds and low temperatures was easy for those of us suited up to be Beyond the Wall, but it was chilling for those better suited for Dornish temperatures. With an impressive turnout of Stark Family members and only one Jon Snow, who was needed for virtually all the pre-planned season 7 photo ops, the first half of the day centered on our Kit Harington lookalike, Mathieu Archambault.
The Lord Snow cosplayer, who travelled from Canada for the shoot, was whisked from
the Game of Thrones season 7, episode 7 Dragon Pit scene in Kings Landing, to a family reunion at Winterfell then Beyond the Wall as part of episode 6's Magnificent 7 (of which we had three). Ygritte wasn't called upon for many of the group shots — but to be fair I was super gluing my belt and quiver straps together on site, so when photog Jason Laboy came around looking for the next available subject, I generally needed a few more minutes.
There were costume changes and wig adjustments throughout the day, but the most notable came in the form of a shiny new accessory. Perfectly crafted to be a gallant surprise, surrounded by friends and family captured in HD, The Mountain had a question for Queen Cersei.
We sat down for the group photo, and The Mountain suggested we all look at The Queen and pose like we are all taking the knee to her. I, for one, had to protest and request a group photo with our faces in it first.
Little did I know this song and dance with bending the knee was all planned out. I thought the boys were struggling to kneel due to, I don't know, leg armor? And The Queen read my mind when she dismissed the idea of The Mountain kneeling, with a regal, "No you don't have to kneel, you're my bodyguard."
But while Jon Snow was making a scene of his kneeling, The Mountain removed his helm and revealed the ring. You can guess by the photo what her answer was.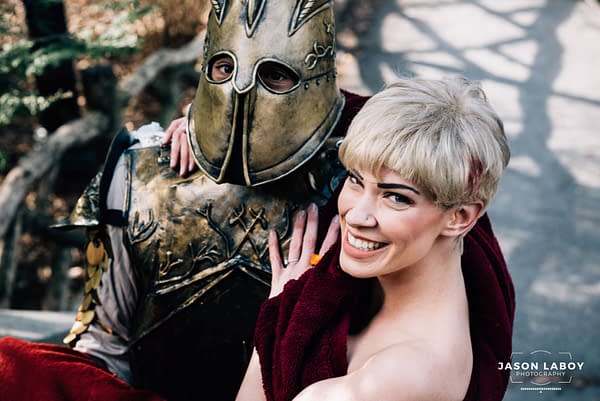 This celebratory moment was a perfect chance for Kira Kelly to bring out her gift to the group; in true Lady of Winterfell fashion she arranged commemorative shot glasses for the group, each with the cosplayer's character name etched into the glass. It won't surprise you to learn that in the revelry of the evening, Gregor's shot glass did not last the night.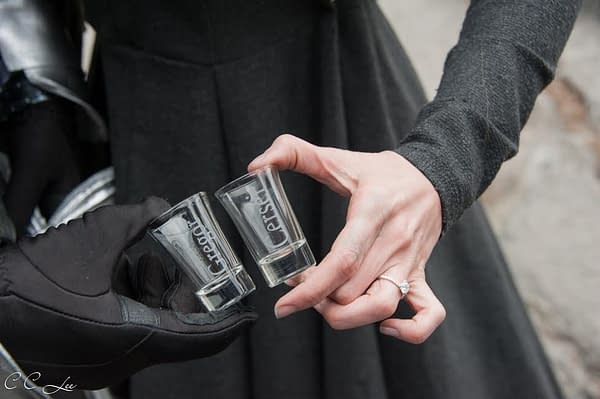 This casual cosplayer couldn't have been more pleased with the weekend, was overjoyed at the surprise of the proposal, and made some new friends she hopes to know for a hundred cosplays to come. As a corporate office worker in the real world I relish the chances I get to dress up and play with my cosplay community. Having put aside earlier life aspirations of a being a professional actor, I had a need for creative catharsis that taking up cosplay has fulfilled for me.
Check out the Game of Thrones gallery from Laboy below:
Involved cosplayers for the shoot included (with their instagram handles):
@casterly_fox as Cersei Lannister
@Suttonfamilycosplay as The Mountain, Lady Lyanna Mormont and Meera Reed
@Lorenomer as Catelyn Stark
@SparrowSongCosplay as Arya Stark
@hamiltonherself as Bran Stark
@jesseplaysthepipes as Robb Stark
@xkirakelly as Sansa Stark
@imdrawingablank as Melisandre
@khaleesiabeth as Daenerys in Blue
@chiphi_tank as The Hound
@KevinVClose as Tormund Giantsbane
@PrincessMarquet as Ygritte and Daenerys in Black
@Lmonserrate666 as the Night King
@battimz as Grey Worm
@soobutterrican as Messandie
@archination as Season 7 Jon Snow
@V.Soriano as Jon Snow (Night's Watch) [Not in main group pic]
@Jake_cosplays as Oberyn Martell [Not in main group pic]
Enjoyed this article? Share it!