One of the things they like to do on The Tonight Show starring Jimmy Fallon is to recreate older music videos. In the past they've done Extreme's More than Words with Jack Black and Styx's Too Much Time on My Hands with Paul Rudd. Well, Ant-Man and the Wasp star Rudd was a guest on the show last night and they unveiled the latest video recreation: Go West's King of Wishful Thinking.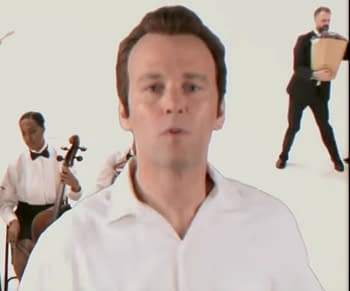 The year was 1990, and the song King of Wishful Thinking was on the Pretty Woman soundtrack. The concept for the video seemed to be, "Let's just throw in everything we've got lying around the studio." Hockey players, ballet dancers, trained elephants, a guy that looks like Roy Orbison on a catamaran. And at one point there is a woman wearing the same dress Julia Roberts wore in the movie. Other than that, it is the most disjointed collection of scenes imaginable.
Rudd plays lead singer Peter Cox while Fallon is guitarist Richard Drummie in an almost shot-for-shot recreation that included multiple costumes for each and wigs… plus, Rudd needed a receding hairline. They also kept the bad image quality form the original. No high-def here. Below you will find the recreated video, a clip from Rudd's visit on the show with some behind-the-scenes shots of making the video… and just in case you can't believe anyone really made a video this bad, the original Go West version is at the bottom.
Go West is still together and touring. They released a live album in 2016.
Rudd can bee seen in Mute on February 23rd, Avengers: Infinity War on May 4th and Ant-Man and the Wasp on July 6th.
https://youtu.be/B-M2yeTgir4
Enjoyed this article? Share it!