"Arrow" Series Finale "Fadeout": Mia Feels She's Failing as Green Arrow Already [PREVIEW]
Now that the dust has settled from "Crisis on Infinite Earths" – and The CW's Arrowverse is a bit more "cozier" because of it – the changes are starting to be felt across all of our shows. Arrow is ending its run after eight seasons – only to become Green Arrow and the Canaries; while The Flash, Supergirl, Batwoman, and DC's Legends of Tomorrow have to rewrite their "universe scorecards" to adjust for some major changes in the status quo.
Did we mention Black Lightning doesn't have the benefit of past crossovers to help with its transition? Meanwhile, viewers have Superman & Lois to look forward to down the road as the pilot script was given a series order. Yup, change is in the air – and throughout the universes.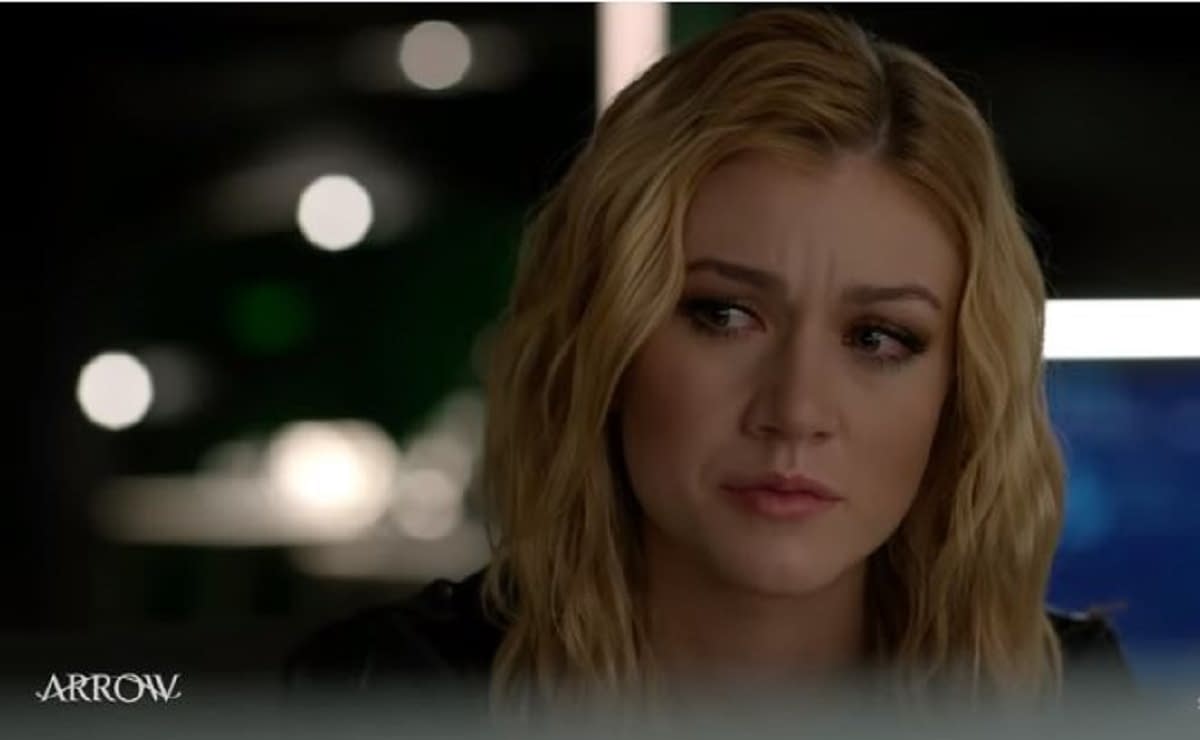 Which brings us the following scene from Arrow series finale "Fadeout" – where we find Mia (Katherine McNamara) feeling like she's already failing at living up to Oliver's legacy:
Earlier today, EW shared a conversation they had with series star Stephen Amell before the series' return to find out his thoughts on the finish line being in sight.
Here are some of the highlights:
● Amell's decision to hand off the bow-n-arrow wasn't an off-the-cuff decision:
"So, we were most of the way through season 6 and I called up Greg [Berlanti], and I go, "I'm contracted through season 7, but I'd like [that] to be the end." And he's like, "Okay, take a second to think about this, and I'll call you back in a week, and we'll see." And he called me back in a week, and he goes, "How are you feeling?" And I go, "Okay, it's time." And he convinced me, because he's way smarter than I am, to come back for a limited run this year, and I think that it's really given the show an opportunity to go out on its own terms. I'm scared. I'm legitimately frightened about the end of it, and I'm very emotional and melancholy, but it's time."
● Amell's journey to Arrow began with his cousin Robbie Amell and a hockey game:
"So I went to a hockey game with my cousin Robbie [Amell] on a Saturday night, and he goes, "Have you gotten an audition for Arrow yet?" And I go, "No, what's Arrow?" He goes, "It's based on the Green Arrow." He goes, "Well, I read the pilot, and I pictured you the entire time that I was reading it." He's like, "I've got an audition, but I actually don't want to go, because you are going to get cast in this role." I went in [to audition], and David Nutter was there, Marc Guggenheim, Andrew Kreisberg. Greg was in his office, because he was like, "If you find someone interesting, let me know." And I went in, read, and Dave Nutter looked at me, and he goes, "Can you go outside for a couple minutes?" And I go, "Yeah, for sure." And I came back into the room, and there are 11 more people there, and they just had me read again….I got the job the following Tuesday morning."
● Aside from a chance to wear a "f—ing awesome" superhero suit, Amell discussed what else there was to help him connect with the series:
"Hung got canceled, and I needed a job, and I thought the script was great. And Greg Berlanti at that point in time wasn't Greg Berlanti, but David Nutter was David Nutter. And he's one of the most kind, generous, thoughtful men that I've ever met. And he believed in me, and I believed in him. It was the opportunity of a lifetime."
● For Amell, it took an unexpected experience on the island Panarea to fully understand just how big the series had gotten:
"People think that the height of the show is when it's premiering, when my torso is 90 ft. tall on Sunset Boulevard. That's not it. It actually compounds over the years, and people become really, really big fans because of the amount of content that you're pushing up, right? I didn't realize that the show was a giant hit until 2017, when I was on an island called Panarea, which was off the coast of Lipari, which is off the coast of Sicily. It's so small, there aren't even cars — golf carts, that's it. We walked into this restaurant that looked closed, and this woman walks out. We're like, "Are you guys open?" And she goes, "Si, Arrow." I'm like, are you f—ing kidding me?"
● Amell also has some pretty clear thoughts on what makes for a great Arrow episode:
"523. I was mad that more people didn't die when the island blew up. Episode 220 when Susanna Thompson as Moira died, I love that episode. Episode 116, when Tommy finds out that I'm the Green Arrow. Episode 214 when I confront Laurel about drinking. Nick Copus directed that episode, and he went handheld. I'm very, very proud of that scene. I love 309. But when is it at its best?

It's at its best in season 2 when Sara reappears. I'm thinking as I read the script, 'Okay, cool, she's coming back and the big reveal is going to happen when her dad Quentin [Paul Blackthorne] gets to see her again. That's probably not going to happen for a couple of episodes.' Nope, [it happened in] act three. That's when Arrow is at its best. Greg used to say all the time, 'You have a hit TV show until you don't, so don't save s—t.'"
● So what is it about "Olicity" that works so well on screen – and with the fans?
"Have you seen Emily act? That's what makes it work. She's supremely talented and awesome and carved out a space that no one anticipated. I don't know that show works if we don't randomly find her."
● As proud as Amell is for what the series has brought the fans, his important takeaways are much more personal:
"I started the show dating a girl and I'm walking away from the show as a husband and as a father, and a way better actor. I don't mean for that to sound ostentatious, but I've got reps now. I'm very proud of how hard I've worked at being a good actor. That's not to say I'm not going to be s—t in something sometime. But I feel like walking away from the show, for me, there's no room that I can't go into, and there's no scenario where I will be intimidated because I've worked nonstop for eight years. And I love it.

The biggest thing I'll take away from doing the show is my kiddo really admires what I do. She comes to the set all the time, and I know that won't last forever, but she sits there in video village, and she wears her cans, and she calls action every once in a while. Honestly, that's the coolest thing."

The CW released the following preview images and episode overview for Oliver's final goodbye – and this last run brings some familar faces with it: Emily Bett Rickards, Colton Haynes, Grant Gustin, and more -as you're about to see in this post-"Crisis" promo:
"Arrow" season 8, episode 10 "Fadeout": STEPHEN AMELL SIGNS OFF AS THE GREEN ARROW; EMILY BETT RICKARDS RETURNS FOR THE SERIES FINALE OF "ARROW" – After eight seasons, and the launch of countless superheroes, the series wraps up the story of the Green Arrow (Stephen Amell). Emily Bett Rickards returns as Felicity. James Bamford directed the episode written by Marc Guggenheim & Beth Schwartz