If you were a TV-watcher during the original run of ABC's LOST, chances are you know the name Carlton Cuse. Producer, writer, showrunner; there isn't much Cuse hasn't done in his Hollywood career, and he isn't slowing down anytime soon.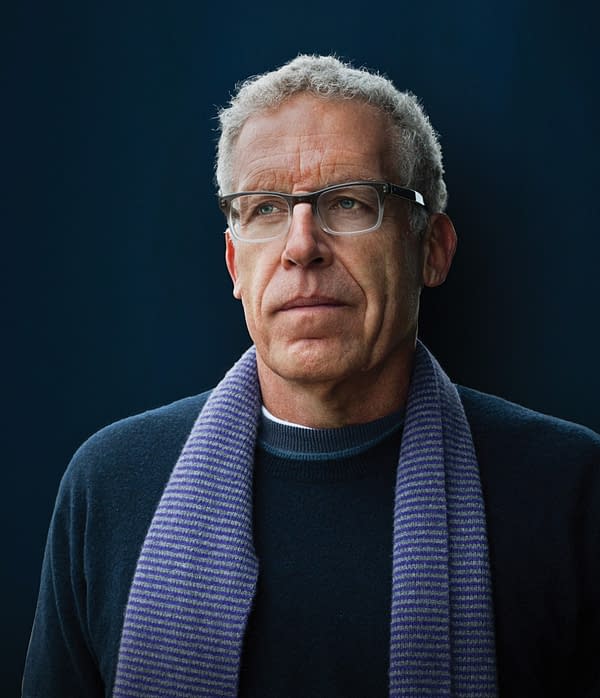 He's been running the show on FX's vampire horror The Strain, based on the books by Guillermo del Toro and Chuck Hogan, since its premiere in 2014. The non-romanticized tale of vampires and their takeover of the country is entering its fourth and final season later this month, after a strong run and an even stronger cast.
Back in April, it was announced that streaming service Hulu was moving forward with an adaptation of the graphic novel Locke & Key, bringing together Cuse, Joe Hill, and the IDW team.  The series is slated to follow the horror/fantasy drama theme, which we know is right up Cuse's alley.
Cuse was nice enough to take time out of his schedule to speak to some members of the press about The Strain Season 4, and about what lays on the horizon for him:
Question: Zack and The Master's relationship — where is that going?
Carlton Cuse: I think we presume at the end of Season 3 that Zack and The Master have gone off together. It's sort of a mentor-mentee relationship, and hopefully Zack is one of the evilest child characters in the history of television, so who better to mentor him than the life-sucking creature?
Q: The show seems to be ending in a different way than the novels. Was that planned? 
C: It evolved across time. You make a TV show, the more time you spend in that world, the more you learn and think about it. It's one of those things where pieces of the ending rose across time. During Season 3 we looked at the amount of narrative we had left, and it felt like one more season was the right amount of time to end the show. The other writers, when we sat down to plot out Season 4 was what the ending was going to be. we already had ideas about characters, we figured out what we wanted and we wrote towards that.  Its a great thing to be able to determine the ultimate fate of your characters.
Q: Is this season about survival? Maybe the overall theme?
C: The goal is to defeat The Master. The characters may be down, but they are the still determined to defeat the forces of evil! Fundamentally, [that is] what the story is about.
Q: What kind of surprises can fans expect, without giving anything away?
C: Most importantly, if you've read the books, the show is its own animal. I don't think you can watch the final season and think you're going to know what will happen to the characters. We allowed the show to be its own creation. You get to find out what the ultimate fate of each character is, and that's exciting. It'll be surprising.
Q: Did Guillermo have a say in makeup or directing for this final season?
C: He remains in charge of the creatures and vfx.  The look of the show, with the characters living in nuclear winter was art directed by del Toro. He is very involved in the visual creation of the show, he lent his talents and provided narrative input as it relates to the end of the show. Chuck and Guillermo and I discussed that in a lot of detail going into the final season.
Q: Does Zack just not care anymore?
C: You'll get more as things go along. It's the ultimate question for the character. Does what he did have deeper resonance; has he been moved or changed by the event? Is there something redeeming in him, some shred of humanity left? That gets explored as the season goes.
Q: Who's your favorite character to write for, or character whose narrative you've been closest to?
C: [laughs] That's like picking a child! I enjoy writing antagonists rather than protagonists, because of their lack of morality, their unpredictability. I guess I'd say Eichorst, because he's loyal and dutiful but also petty. It's delightful to see him be this force of evil, but highly annoyed when other characters are getting stuff he doesn't get. But I love all the characters.
Q: Was it a conscious choice, the casting of Jonathan Hyde as The Master?
C:  It's kind of a combination, no one makes a successful TV series in a vacuum. If he wasn't as outstanding as he is, we probably wouldn't have done it. That said, it became pretty clear that he was a really logical progression as to where The Master would line up, and how great it is because of how annoying it is for Eichorst. Palmer as a character, with his innate human evilness, with the evil parasitic character, was ideal. It required a conviction that the actor was extraordinary, and Jonathan really pulled it off. [Hyde] reveled in it, which made it a really fun thing to see.
Q: Will we see more flashbacks as a narrative this season?
C: There is even a flashback in the final episode. It's always been a good way for us to provide some resonance about these characters. [It's] something we've done since the beginning and [we] will continue to do it 'til the end of the season.
Q: Was it strange to have an end in site? Wasn't LOST one of the only shows to know they were ending?
C: When we did LOST, it was the first time in the history of TV that someone was able to negotiate the end of a show. To negotiate the conclusion while the show was still successful had never been done before. It's a challenge to know how to end a show well, but you have to rely on your gut and heart and really think about what the audience is expecting. What are the unresolved issues on a show?
On Bates Motel, we saw that wonderful romantic tragedy and sort of Romeo and Juliet of how the characters can be together, but only in death can they find their place with each other. We thought about that early on and worked towards. The Strain is larger than life, forces of antagonism with The Master and his minions with these good characters. The best ending is a conflict between the forces and tell us the fate of those characters, which is what we set out to do. No stalling around; everything is very definitive this season.
We can't wait to see how the series ends! The Strain Season 4 is set to premiere on FX on July 16th. The Strain Season 3 is available now on DVD and streaming on Hulu.
Enjoyed this article? Share it!