 While The CW expands its television week to six days with 12 hours of original, unscripted programming, it turns out it was a series that wasn't picked up that was the "800 lb. demon" in the corner when the network's Mark Pedowitz began his press call Thursday morning: Supernatural spin-off Wayward Sisters. Speaking with the media before the network's upfront presentation to advertisers, Pedowitz admits that the series was not where it needed to be creatively to warrant a series order.
"We had really great material this year. We're really exited about the five series we did pick up. We are big fans of the characters and the women who played the characters in the series, but we did not feel creatively the show is where we wanted it to be. We felt we had a better shot with Legacies."
Though emphasizing that the series was not at a place "where it needed to be to go forward with it this year," Pedowitz reiterated that the network are still "big fans" of the show's cast;" hoping they "continue on… guest starring on Supernatural."
https://www.youtube.com/watch?v=QxJ2LeCFFGM
Wayward Sisters was intended to focus on Sheriff Jody Mills (Kim Rhodes) and a group of troubled young women, all orphaned by supernatural tragedy. Under Sheriff Mills's training and protection, the women would emerge as a supreme monster-fighting force. Supernatural co-showrunners Andrew Dabb and Robert Berens wrote the script; with Dabb, Berens, co-showrunner Robert Singer and Phil Sgriccia on board as executive producers.
https://www.youtube.com/watch?v=wbjL9_VuzA8
In the episode 'Wayward Sisters', Sheriff Mills, Claire Novak (Kathryn Love Newton), Alex (Kathleen Ramdeen), Kaia (Yadira Guevara-Prip), Donna (Briana Buckmaster) and Patience (Clark Backo) attempted to rescue horror hunters Dean (Jensen Ackles) and Sam Winchester (Jared Padalecki) from The Bad Place.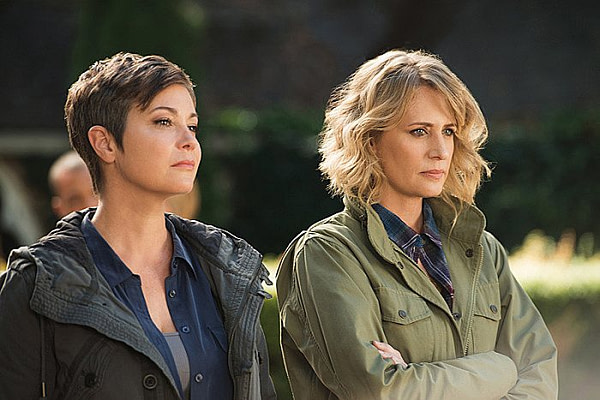 A campaign for Wayward Sisters began over two years ago with a name created by the fans that's based on Kansas's 'Carry On Wayward Son', the song that opens every Supernatural finale. The show's fanbase is supportive of having a spinoff series, but felt that it would need to be built around Supernatural mainstays; and that's what separated Wayward Sisters from the previously-failed attempt, Bloodlines.