Global entertainment superstar Dave Bautista cut a scathing promo on supporters of President Donald Trump on Twitter while putting over former Democratic presidential candidate Bernie Sanders. Bautista retweeted one of Sanders' tweets burying the president over wealth inequality. "$282,000,000,000," Sanders tweeted. "That's by how much America's billionaires increased their wealth in less than a month, while over 22 million lost their jobs. This system of unfettered greed is morally obscene. It's time to put working families first—not billionaires."
Bautista added to Sanders' message, "Which baffles my mind why working-class Americans support this #FakePresident. Same people who think they're being patriotic by supporting the most autocratic President we've ever had. #wannabedictator #braindeadmorons." Could Bautista's comments about Trump land the former champion in the doghouse backstage in WWE?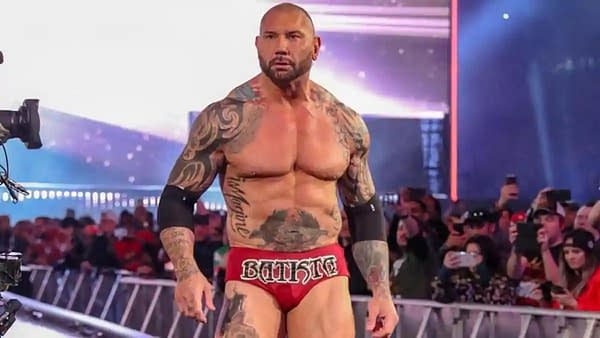 Like Bautista, Donald Trump is a member of the WWE Hall of Fame. The wrestling-est president since Abraham Lincoln, Trump is in close cahoots with the McMahon family, who helped fund his 2016 presidential campaign. Linda McMahon is a former member of Trump's cabinet and currently runs a pro-Trump super PAC, a position which helped WWE earn a special exemption to continue filming during stay-at-home orders in Florida. Vince McMahon was recently named to a presidential task force on restarting the economy. And even Cody Rhodes, executive vice president of rival wrestling organization AEW, stood up for Trump by liking a tweet suggesting fellow wrestler Sami Zayn "go back to Canada" if he didn't like the president's actions. And clearly, Bautista didn't check with his friend and former Evolution stablemate, Triple H, as Haitch has previously visited the Oval Office to see Trump and was praised by the president on Saturday morning for his 25-year WWE career.
Wrestling Observer's Dave Meltzer lent credence to the theory that Bautista could get heat because of his comments, retweeting Bautista's post and writing, "The sad part is that so many people will ignore the actual facts of the message you retweeted simply because of who it is from. Far too many choose sides and follow sides while ignoring everything else. The last month has proven that." Trump marks soon came for Meltzer in the replies, prompting him to add, "And the responses to this prove the point."
Enjoyed this article? Share it!