Sounds like Hulu's The Vampire Chronicles has brought on their new showrunner after the departure of Bryan Fuller. According to author Christopher Rice, son of author Anne Rice and co-writer of the pilot, Dee Johnson will be calling the shots for the bloodsuckin' series.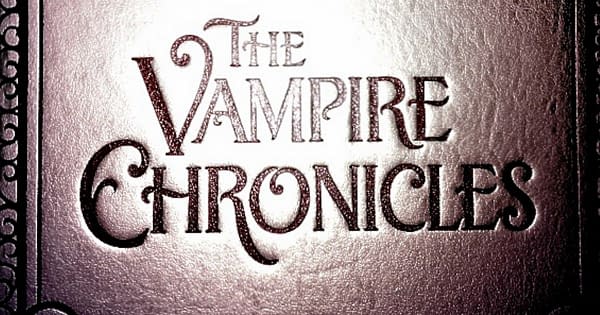 In a post on his Facebook page, Christopher Rice introduced Johnson to his fans:
Christopher here, with an exciting update about our show. Let me start by thanking all the supporters of our ongoing journey to bring The Vampire Chronicles to television. And let me assure you that while we've been fairly quiet on social media of late, all the members of Team Vampire Chronicles have been working diligently behind the scenes as our development process intensifies. Today, I'm thrilled to tell you that after an exhaustive search, we've joined forces with the perfect showrunner, a woman of vast experience and impeccable professionalism who brings with her a deep respect for the material.

Say hello to Dee Johnson, seen to my right in the picture above with Anne and our valued team Eric Shaw Quinn. Dee is a wildly talented and versatile writer/producer whose credits range from critically acclaimed dramas like BOSS, to network hits like NASHVILLE, to the world-building, science-fiction odyssey, MARS. An openly gay woman of color, during her extensive years on name brand shows like E.R. and THE GOOD WIFE, Dee championed the representation of minority characters, marrying diversity to smart and compelling drama and delivering it to millions of homes around the world. To The Vampire Chronicles, she brings with her a deep love of the material, a sterling reputation for professionalism and vast reservoirs of experience in all aspects of the television industry, ranging from creating worlds through green-screen to finding the perfect mix of elements needed to execute the complex visions of creators from other fields. In our first meetings with Dee, she spoke with moving eloquence and clarity about the characters and relationships that define this series, their outsider perspectives and their moral dilemmas – all the elements that make The Vampire Chronicles a probing exploration of cosmic and spiritual questions perfectly suited for adaptation in the era of peak T.V. #thevampirechronicles #lestat #annerice #thevampirelestat #vampire#vampires
There is no word on casting yet, but this pickup more than likely means it's getting close to that time.
The Vampire Chronicles will reportedly follow the first and second novels in Rice's romantically dark series that started with "Interview with the Vampire" about Louis and his recited tale to young reporter Daniel. Book 2 "The Vampire Lestat" follows the human life of young Lestat de Lioncourt before he was made undead, his fledgling vampire days, and his eventual creation of Louis and Claudia, as well as his adventures post-second-death.
We're reaaaaaaally hoping a tv series means the on-screen presence of other notable characters from the series, like Lestat's mother Gabrielle, among others.
We'll let you know what we hear about the project as things get going.
Enjoyed this article? Share it!