Emily Bett Rickards Sees Trouble Ahead for Oliver and Felicity
Is there trouble ahead for Oliver Queen (Stephen Amell) and his new bride Felicity Smoak (Emily Bett Rickards)? With the Arrow season finale just one day away and a lot of talk about what season 7 might have in store, Rickards talked with EW.com about the episode and what it might mean for Olicity… spoiler warning.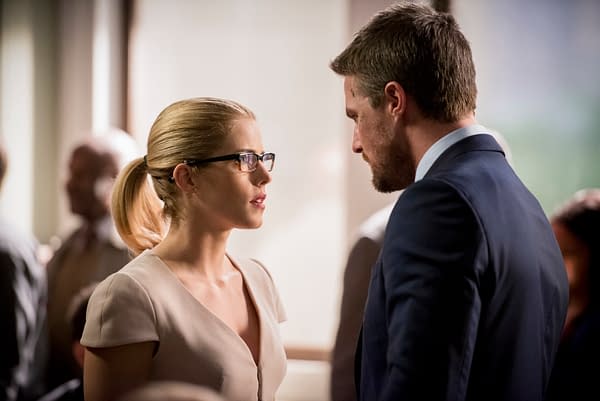 Rickards mentions that there is an upcoming split between the two:
When the season ends, they have a [severance] in their relationship and not one that they imposed on themselves.
She compares the ending of season 6 to the explosive finale of season 5:
This year I thought it was a little unpredictable. It's different from other seasons just because it just feels so personal. Not to say getting blown up on an island doesn't feel personal, but it does happen from afar and this one is right at home.
And she talks about that finale season with Oliver going to Agent Watson (Sydelle Noel) and the FBI for help in taking Ricardo Diaz (Kirk Acevedo) down.
When you make an alliance, you also have to make a sacrifice, and in terms of making a sacrifice, you also have to have a bargain, and that's the big question at the end of this season: Does what we lost outweigh the gain? Having to do the deal with the FBI is the catalyst of that question for the end of our season.
The severance would fall in line with the theory that Oliver is going to prison for at least part of the season… maybe out by the crossover. But if they are doing Escape from Supermax, then it would split Oliver and Felicity and it would also expose his real identity possibly putting Felicity and William (Jack Moore) at risk and making them either going into protective custody or go off the grid.
The Arrow season 6 finale airs Thursday night at 9 p.m. ET on the CW.