If you are not watching Amazon's original series Mozart In The Jungle, you should fix that as soon as possible.  The surprise hit series has racked up an impressive collection of Emmys and Golden Globe wins, pretty much coming out of nowhere to take home Best Musical Or Comedy and Best Lead Actor In A Musical Or Comedy in 2016, beating out Amazon's other nominated series, Transparent.
Brainchild of Roman Coppola, the series centers around the New York Symphony, lead previously by the Maestro (Malcolm McDowell) and taken over by young conductor Rodrigo (Gael Garcia Bernal). The power behind the symphony's money is none other than Gloria (Bernadette Peters), and she does her best to balance the personalities and issues that arise.  The other notable lead character is oboist Hailey (Lola Kirke), who is based on Blair Tindall, author of the Mozart in the Jungle: Sex, Drugs, and Classical Music memoir the tv series hails from.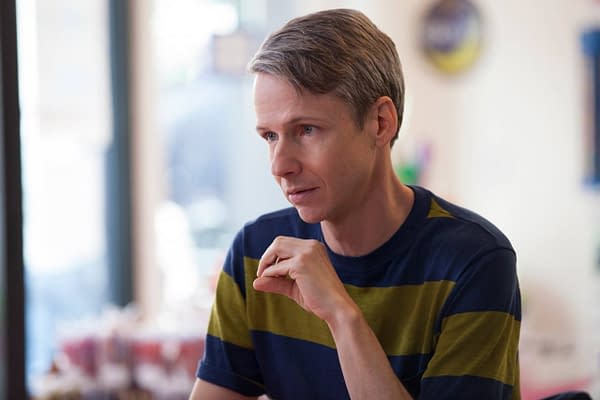 Over on instagram, writer/actor/director/creative genius John Cameron Mitchell posted an image in a makeup chair, getting his hair touched up along with the caption "getting my hairs did for a new part on mozart in the jungle".
If you don't know JCM's name, you'd maybe be more familiar with the most popular and long living of his work, namely Hedwig And The Angry Inch.  Along with writing partner Stephen Trask, JCM created the character and subsequent stage show of a sex change botched songstress from communist East Berlin and her transcendence struggle to find her other half.  The original stage show was housed in small off broadway theaters and nightclubs, became a movie, and eventually returned to NYC in a revival on Broadway starring Neil Patrick Harris as Hedwig and Lena Hall as Hedwig's husband, Yitzhak.  They both won Tonys for their performances, as well as the show winning for Best Revival in 2014 (Hedwig also won for best lighting design that year, too).
His joining of the cast, in whatever context the role may be, is exciting to anyone who is a fan of either Mozart or Hedwig.  The Amazon original series is set to return later in 2017.
Enjoyed this article? Share it!