The second season of Netflix series GLOW about the Gorgeous Ladies of Wrestling is back, and better than ever. The Golden Globe nominated series that celebrates all things girl power and amazing odd-ball Netflix comedy.
The performances are top notch in both performance and athleticism-  these ladies are at the top of their games and completely dedicated to the series.
If you missed season 2 episode 4 "Perverts Are People Too", you can catch up here.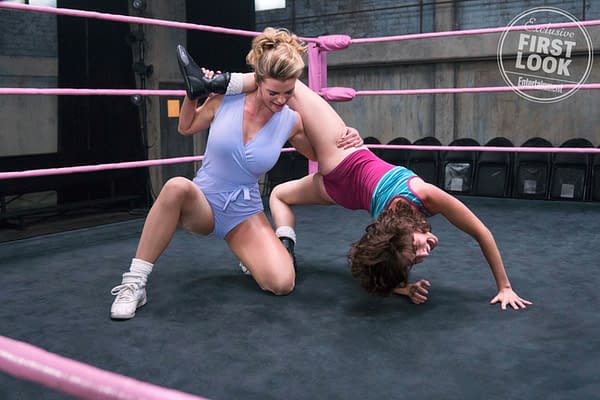 Things that happened in "Work The Leg":
The Episode opens with Cherry training the ladies
Bash and Mark are debating why the time slot move (who watches tv at 2am)
The network guy tells them a men's wrestling show took their slot, and so Bash goes off on the ladies, telling them they need to be better
Yolanda and Cherry are going to have a match- Sam calls it southside rumble
Justine chats with Ruth in the locker room, invites her to an event that Sam is doing, saying he seems to hate Ruth less than anyone else
Some in fighting is happening in practice, but Carmen pulls them all out of it with a great speech.
And a damn training montage
Some really great stuff though! Seeing the progression of the moves is awesome.
Ruth goes to Sam's screening, and it's almost like a Parent Trap set up with Justine tapping out at the last minute so they have to sit together
After the screening, Sam admits he's not mad at Ruth, but is an angry old man who has severe issues.
They sit in the dark theater, and he admits that he usually knows why things go bad, but has NO idea what happened with GLOW's timeslot.
Ruth admits what happened with the exec
He believes her, and they share a moment of "that guy? FUCK THAT GUY"
While out getting her car washed, Debbie runs into her ex husband and his new girlfriend
Sam goes on a mission, crowbar in hand, and tracks down exec guy's car and starts smashing it
Glen sees Sam smash the car, but tells him "he pisses off a lot of people, could have been anyone"
Back at the studio, Sam invites Justine to run the booth during the show so he can film
Pretty great to see Sam not being as much as an asshole
Debbie comes in in a huff, demanding her own dressing space, and Sam gives her a flask and his office to get ready for the night
She does a line of coke, and man this is sending her down a path she doesn't need to visit
Chola JunkChain beats Black JunkChain in the match
Liberty Belle and Zoya have their match, and Debbie is NOT doing ok
You can see the moment of realization on Ruth's face, and she tries to check in with Debbie, but Debbie is checked out
The rest of the girls are watching from the booth, they know somethings' wrong
Liberty Belle gets caught up in the moment, and fucking breaks Zoya's knee.
***
Holy crap. Yet another example of DON'T MIX DRUGS AND ATHLETICS.
GLOW season 2 is currently streaming on Netflix.
Enjoyed this article? Share it!