One of the questions fans have been wondering since it was announced that Freeform would be making a Cloak and Dagger television series was the possibility of getting the characters' costumes. Tyrone Johnson's (Aubrey Joseph) is the much easier of the two, while Tandy Bowen (Olivia Holt) has a costume that has changed some over the years and would be difficult to do in live action.
Cloaks wears a blue-and-black striped cloak that comes up over his head and is filled with the dark matter he creates. Seems pretty straightforward. Dagger's original costume was a skin-tight white body suit with a high collar and an opening from the neck to the naval that also cut horizontally over the top of her chest to take on the appearance of a dagger. Her costume has been modified over the years to be a little more practical.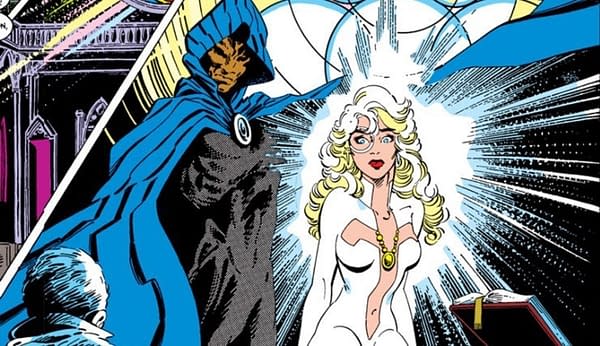 We're we've been told we'd probably see a nod to Dagger's costume, and we were already shown the cloak in last week's episode when Otis (Miles Mussenden) took Tyrone to meet the Wild Red Hawks and was introduced to the art of making beaded costumes. He discovered a cloak originally started by his brother Billy, who was killed. Tyrone took on the cloak, promising to finish it perfectly and wear it in honor of his brother.
A new video released shows some of the critical acclaim the series is receiving and gives us two new scenes. One is of Tyrone trying on the cloak, which really does look like the one in the comics.
The other scene shows Tyrone and Tandy on the roof of a building using their powers in a way we have yet to see in the series.
Marvel's Cloak and Dagger airs Thursdays at 8 p.m. ET on Freeform.
Enjoyed this article? Share it!