Netflix Takes Axe to 'One Day at a Time' After Three Seasons at a Time
Netflix has made the "difficult decision" to pull the plug on One Day at a Time, which just debuted its third season last month.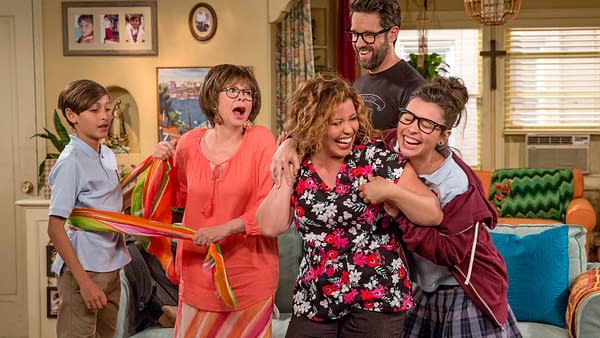 Some One Day at a Time fans have pointed out that it's hard to know what exactly justifies "enough people" it would take to justify a fourth season, since Netflix doesn't release viewership numbers.
One Day at a Time was lauded for its strong, realistic portrayal of a single mother (Rita Moreno), who just happens to be a veteran with PTSD. The show also tackled relevant, timely issues involving the LGBTQ community, as well as racial issues that affect LatinX Americans.
Mike Royce and Gloria Calderón Kellett are the co-creators and executive producers behind One Day at a Time, and posted the following on Twitter:
Last night, Netflix told us they are cancelling One Day at a Time. We had the time of our lives making this show. We worked with the best, most giving and talented cast, writers and crew ever, as well as the incomparable Norman Lear. So while our hearts are very heavy, they are also bursting with the appreciation for this amazing experience.
Reaction from the cast and crew has been supportive, sad, and grateful to the show's fans:
Celebrity fans have weighed in on the cancellation as well, with Lin-Manuel Miranda posing a serious question at NBC:
Even Ted Sarando, the Chief Content Officer at Netflix, weighed in on the cancellation decision:
It's been a great honor to work with the legendary Norman Lear on One Day at a Time," he said. "I've personally spoken with Norman, and co-creators Gloria Calderón Kellett and Mike Royce, to express my gratitude to them, all the writers, the dedicated crew and the cast including the brilliant Justina Machado and dazzling Rita Moreno for creating a series with such humor, heart and humanity. This was a very difficult decision and we're thankful to all the fans who've supported the series, our partners at Sony, and all the critics who embraced it. While it's disappointing that more viewers didn't discover One Day at a Time, I believe the series will stand the test of time."
Whether this is the end of One Day at a Time altogether has not yet been determined, and we'll keep you updated with news as we get it!