Droughtlander is the worst part of any year for fans of STARZ series Outlander, and boy are we feeling it right now.
Thankfully, STARZ knows this and wants fans of the show based on Diana Gabaldon's novels to be happier during the long wait. Tonight, during the tail end of the Outlander marathon on STARZ, a short scene was shown. Specifically, a scene from an episode in the upcoming highly anticipated 4th season.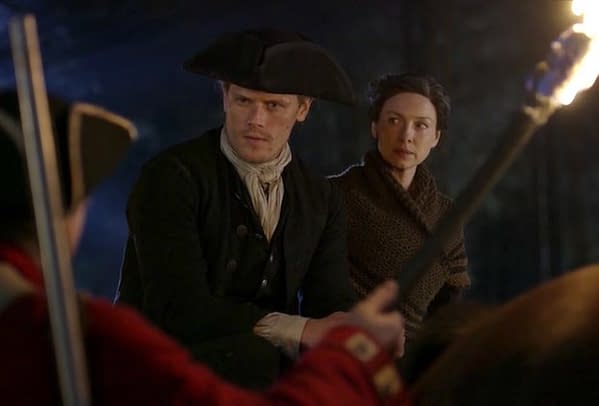 The scene, which is not yet available online, depicts Jamie (Sam Heughan) and Claire (Caitriona Balfe) on a cart in the middle of the night being stopped by a group of redcoats. Some banter is exchanged, it's obvious the English officers are looking for something/someone, and they look through the contents in the back of the cart.
Jamie is begrudgingly forthcoming about his cargo, stating several items, including a corpse. The officer, unphased, orders his men to stab a bayonet through the leg of the corpse, "to make sure". The young man does so, and reports "not a twitch, sir". The officer, momentarily defeated, lets the Frasers go about their business, and the scene ends.
TV Editor for EW Lynette Rice has since tweeted that the scene, which came at the tail end of the Outlander Marathon on STARZ today, is for subscribers only, and is probably a further attempt by the cable network to get their offerings picked up again by East Coast provider Optimum.
For those who want but can't see the #Outlander teaser: it's for subscribers only, a stunt that's probably meant to get NY fans on the phone with Optimum so it'll reach a new carriage deal with Starz. You've seen the tweets from the cast, right?

— Lynette Rice (@Lynetterice) January 15, 2018
Readers of the books will know at once what the situation is, and the various things put in motion by this scene from the fourth book in the series, "Drums of Autumn" which the 4th season of the show will follow.
Outlander is due back sometime in 2018 on STARZ.
Enjoyed this article? Share it!