When it comes to the possibility of a Riverdale/Chilling Adventures of Sabrina crossover (a real one, not like the ones we cover below), we're not sure anyone would be as excited about it becoming a reality as our own Riverdale reviewer Eden Arnold. She's been pushing the theory that a visit from Sabrina Spellman (Kiernan Shipka) could be just the thing the series needs to have a Afterlife with Archie-themed season – and if there's any show that could find a way to suddenly be Walking Dead-ish and make it work? Yup, it's Riverdale.
So imagine our excitement when we saw the following post on the official CAOS Instagram account – a very Sabrina-looking Shipka with Riverdale's KJ Apa (Archie) and Casey Cott (Kevin)… with simply this line: "Riverdale is a big, scary place…"
Hmmm… simply friends and fellow "shared universe mates" just showing love and support for one another? Or could it be a tease that ties into the "Dead Jughead" (Cole Sprouse) storyline?
Then again, there were some interesting things in CAOS Part 3 that might need a looking into…
View this post on Instagram
Fans of CAOS who've wrapped up Part 3 already know that the seeds of a Riverdale crossover were already bearing fruit. Here's a look at two huge Riverdale/CAOS crossover threads from the recently-released season – as well as The CW series' "response" with a CAOS character who's already made the leap: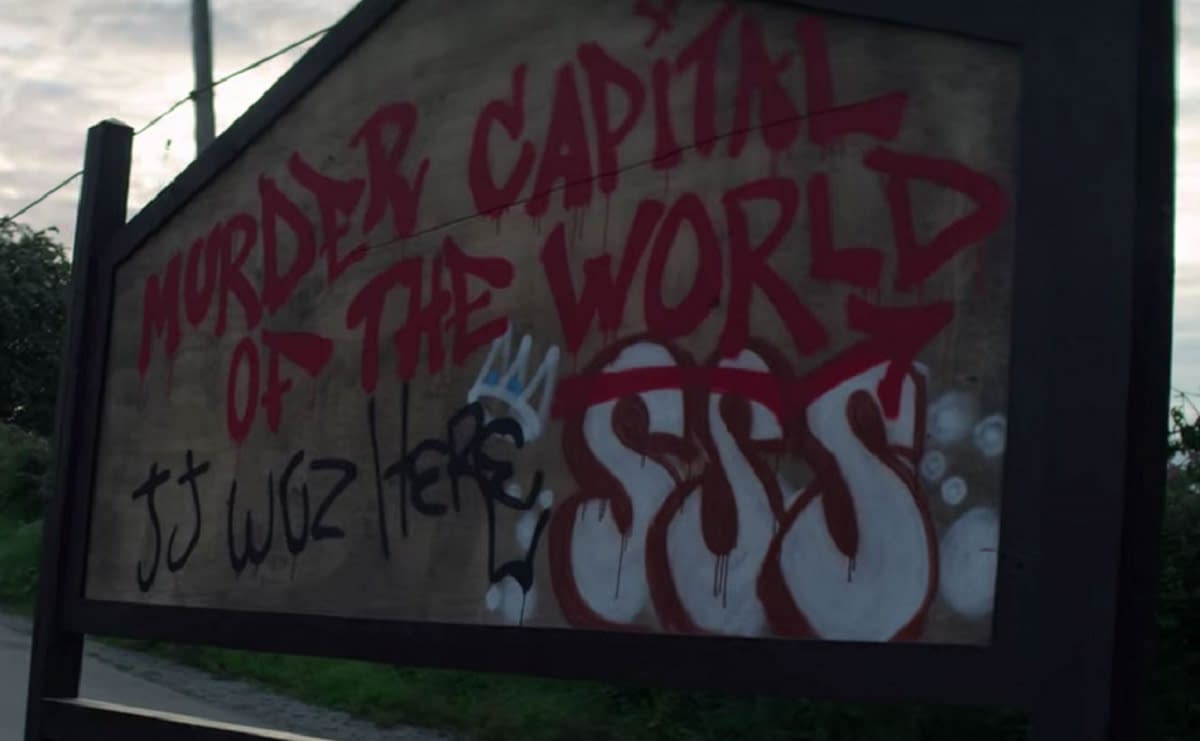 "Chapter Twenty-Three: Heavy is the Crown"
(Director: Rob Seidenglanz/ Writer: Oahn Ly)
● First, let's take a look at that sign (above) that Sabrina and Ambrose (Chance Perdomo) pass as they look to retrieve the crown of Herod. "Murder Capital of the World" is a clear reference to the town of Riverdale's infamous nickname, and the "JJ Wuz Here" is clearly cornball enough to be Jughead Jones (Cole Sprouse).
● So Sabrina and Ambrose actually enter Riverdale – well, at least the wooded area just inside the border so that counts… right? As for the artifact they're looking to retrieve? Previously in the possession of a Benjamin Blossom – a name shared by a certain Cheryl (Madelaine Petsch). Considering Cheryl's supernatural-tinged lineage – and the fact that the crown was retrieved from a maple tree – it's safe to assume that Greendale isn't the only town whose foundations are tained by the superntural.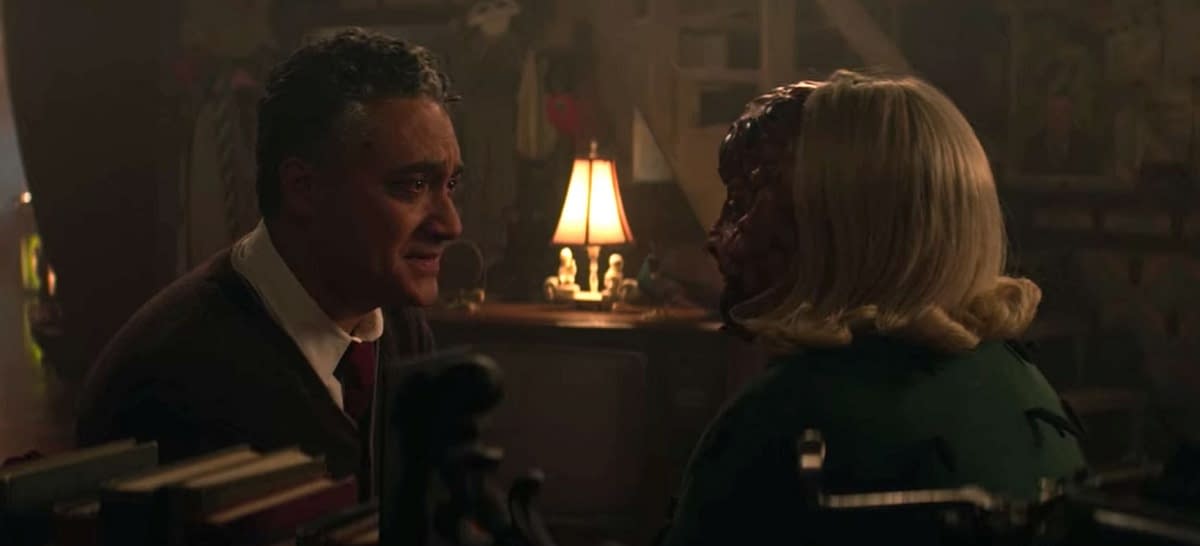 "Chapter Twenty-Six: All of Them Witches"
(Director: Michael Goi / Writer: Joshua Conkel)
● When Circe hits Hilda (Lucy Davis) with a spell that brings out her inner-spider in ways none of us (especially Hilda) wanted, she visits Dr. Cee (Alessandro Juliani). Hungry, she asks him to run out to a diner in Riverdale that has "the juiciest hamburgers and thickets milkshakes" – clearly, a reference to Pop's Chock'Lit Shoppe.
● To drive home the point even further, Hilda's spider cravings create an appetizier in the form of a Southside Serpents members (the Sharks/Jets-like gang from Riverdale) – who picked a very bad time to need a new book.
"Riverdale" season 4, episode 10 "Chapter Sixty-Seven: Varsity Blues"
(Director: Roxanne Benjamin / Writer: Aaron Allen)
● Meanwhile… Betty's (Lili Reinhart) investigating accusations of Stonewall Prep football players intentionally hurting opposing players, so she interview a number of players from other schools for more info. One of those players? Baxter High Ravens' Billy (Ty Wood), Theo's (Lachlan Watson) ex-bully (after Hilda got her hands on him) and member of a team known to be sports rivals of the Riverdale Bulldogs.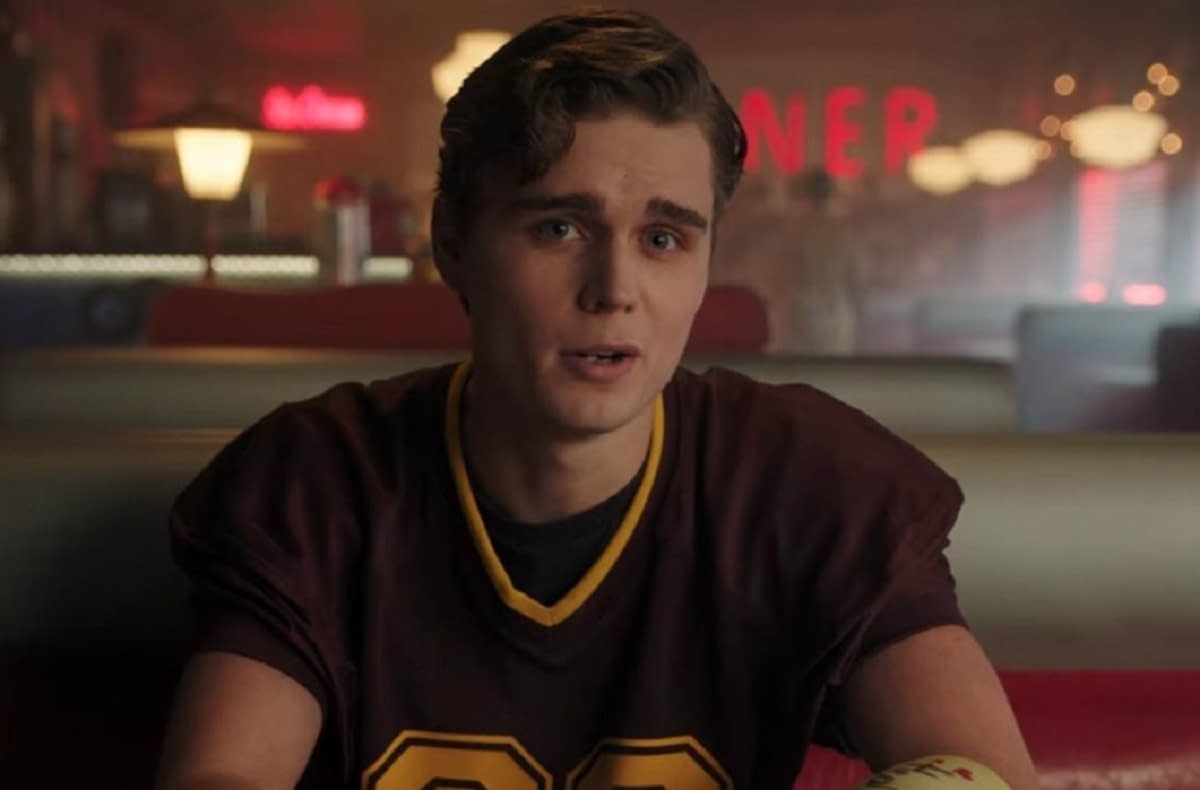 Enjoyed this article? Share it!