Rosario Dawson is, in a lot of ways, the backbone of the Marvel / Netflix universe. Her character of Claire Temple first appeared Marvel's Daredevil season one, popped up to help in Marvel's Jessica Jones season one, got pulled into the life of Marvel's Luke Cage in season one and started training with Colleen Wing (Jessica Henwick) which pulled her into the story of Marvel's Iron Fist season one. And with all that she got involved with blowing up a building in Marvel's The Defenders. The only series she hasn't shown up in is Marvel's The Punisher… but a season two of that is coming so there is hope.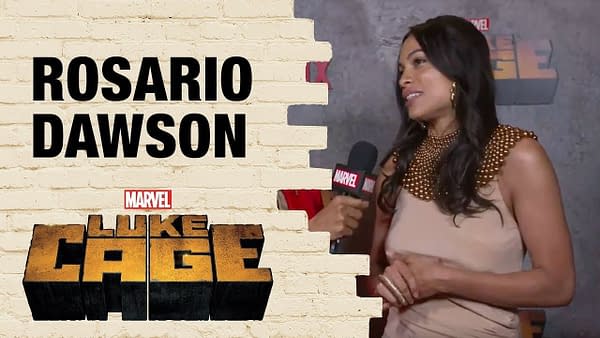 Dawson was on at the red carpet world premiere of for season two of Luke Cage and was asked about her characters relationship with Luke (Mike Colter) and her role in the MCU overall. The actress talked about how the new series explores not only the relationship between Claire and Luke, but also them as individuals and Claire has to take a look at what she's doing and while she loves being the person that helps the heroes, she wonders if she's really doing the right thing. She also talks about how Claire is a representation of the every day person and what they bring to a world of heroes. How their time, money, energy and love can still make a difference.
Marvel's Luke Cage season 2 is available now on Netflix.
Enjoyed this article? Share it!