FINALLY, Some What We Do in the Shadows Spinoff Details
Hopefully you've seen the delightful vampiric mockumentary comedy What We Do in the Shadows by now. If you haven't, you probably should, as Taika Waititi (Thor: Ragnarok, Hunt For The Wilderpeople) and Jemaine Clement (Flight Of The Conchords, Legion) created a pretty fabulous film that is getting two sequels.
One, a film, called We're Wolves, will be about the rival group of supernatural beings running around in Wellington, NZ during WWDITS. Theoretically we'll see some of the same werewolves-not-swearwolves introduced in the vampire-centric film, perhaps their own take on the events in the park that night, lead by Anton (Rhys Darby).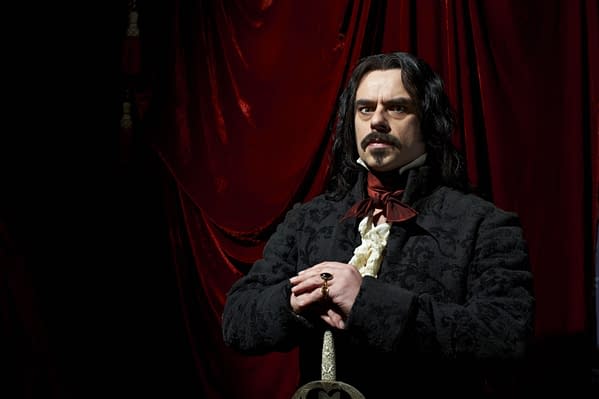 The second spinoff will be a TV series, called Wellington Paranormal. In a recent interview with STUFF, Clement talked a little bit about what the show will entail:
Set to air on New Zealand's TVNZ in mid 2018, the show will consist of six 30-minute episodes. Police unit members Mike Minogue and Karen O'Leary (who we met in WWDITS, the two cops who get glamored to not see the blood and dead body) will hunt ghosts, werewolves, and demonic possessions in Wellington.
Producer Paul Yates said the series will be a little more X-Files-inspired, but with some familiar supernatural characters and personalities making appearances:
We had an incident with some zombies which got pretty tense there. So luckily they're taken care of. A couple of crew members were turned into zombies — I think. It's hard to tell sometimes. Also, some very worrying things have happened in Lower Hutt as well. There was a party in Khandallah that got a bit out of hand, too, with some undead member of the Wellington public.
No telling when we'll be getting We're Wolves, but Wellington Paranormal is hitting NZ in mid 2018.