Despite the lack of a duranium air date for CBS's ALL ACCESS series Star Trek: Discovery, it seems the new ship in the quadrant is moving ever forward. There were no less than FIVE new names added to the cast list, including a familiar visage from Battlestar Galactica.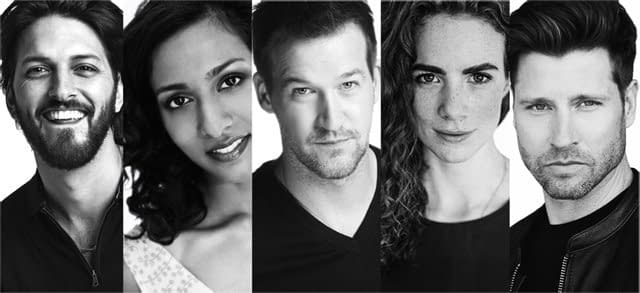 Rekha Sharma who fans of BSG (reimagined) will remember as Tory Foster, personal assistant to President Laura Roslin, and maybe-possibly not a human. (Sorry to those of you who HAVEN'T finished the series or gotten to the Final Five reveal.) Sharma actually HAS some recent Star Trek experience, appearing in an episode of the fan production Star Trek: Continues. For Discovery, she'll be stepping into the role of Commander Landry, the security officer aboard the title ship.
There was also the reveal that Shazad Latif (Penny Dreadful) is NO LONGER playing Klingon commanding officer Kol, and instead will be playing Kolto Lieutenant Tyler, a Starfleet officer in the Federation. Kenneth Mitchell (Jericho, Miracle) will be stepping into the role of Kol.
We have more Klingons off the starboard bow, with newcomer Clare McConnell and Damon Runyan (Lost Girl, Haven) announced as Dennas and Ujilli, leaders in the Klingon Empire.
These folks will join previously announced cast that includes Sonequa Martin-Green (The Walking Dead) who will star as the lead lieutenant commander, James Frain as Spock's father Sarek, Anthony Rapp as a space fungus expert, and Michelle Yeoh as the captain in charge of the Starship Shenzhou.
Jason Isaacs as the captain of the Discovery, Terry Serpico as Admiral Anderson, a high-ranking official of Starfleet; Maulik Pancholy as Dr. Nambue, the chief medical officer of the Starship Shenzhou, Sam Vartholomeos as Ensign Connor, a junior officer in Starfleet Academy assigned to the Starship Shenzhou, Doug Jones as Lt. Saru (brand new alien), and Rainn Wilson as original series Star Trek character Harry Mudd. No word yet on his women.
Star Trek: Discovery will feature a new ship, new characters and new missions in across the galaxy. The series will premiere on the CBS with all subsequent episodes available on CBS All Access. It is produced by CBS Television Studios in association with Alex Kurtzman's Secret Hideout, Bryan Fuller's Living Dead Guy Productions and Roddenberry Entertainment. EPs are Alex Kurtzman, Bryan Fuller, Heather Kadin, Gretchen J. Berg & Aaron Harberts, Akiva Goldsman, Rod Roddenberry and Trevor Roth.
In this piece over on Io9, CBS interactive CEO Jim Lanzone said this about the new Star Trek show:
"Scifi is not something that has traditionally done really well on broadcast. It's not impossible, for the future, if somebody figures it out. And things like Lost and Heroes have had parts of, you know, scifi, but historically, a show like Star Trek wouldn't necessarily be a broadcast show, at this point. And so, you kind of look at the other networks we have, CW and Showtime, it just fit with the digital audience and having that digital Star Trek audience."
We'll let you know when other breaking Star Trek: Discovery information is made public. You know, like an actual release date.
Related Posts
Enjoyed this article? Share it!