Star Trek: Patrick Stewart On TNG Filming; Akiva Goldsman On Season 2
Shooting in the world of syndication compared to the age of streaming must be night and day for Patrick Stewart. First playing the role of Captain Jean-Luc Picard in 1987 on Star Trek: The Next Generation, nearly 33 years passed, and the demands on the set of Picard aren't anywhere close as grueling. Stewart spoke to CBS Sunday Morning about how it felt to return to a character he hadn't played in 18 years. Prior to CBS All Access' Picard, Star Trek: Nemesis (2002) brought an abrupt end to the TNG franchise. When the offer came from Alex Kurtzman to the former X-Men actor, he initially balked before reconsidering and requesting the pitch put into writing. Not only did Stewart accept to star in the series, but CBS also made him a co-executive producer.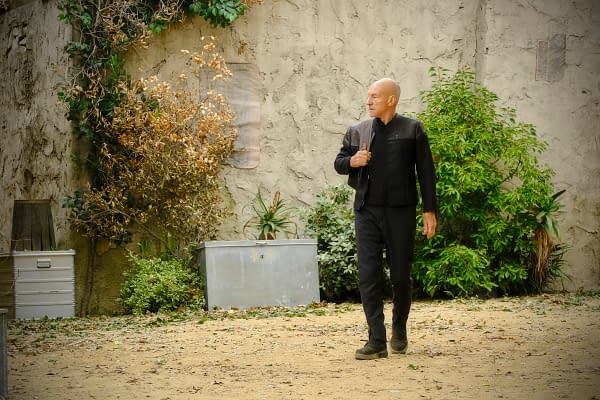 Star Trek: The Next Generation Was A Grueling Schedule
"No, I was too naïve, too new at the game of series television [to executive produce]," Stewart said. "I had so much work to do. Really, the first couple of years I didn't have a social life at all. We'd work a 5-day week, 12, 13, 14, sometimes 15-hour days, especially toward the end of the week. Then Saturday, I'd allow a little sleep-in and do my own laundry—which I still do." During TNG's run, the actor admitted the series took the bulk of his life but got to rest on Saturdays and catch up on his laundry. On top of the long hours, the Starfleet uniforms, despite its numerous changes throughout the years, were notoriously uncomfortable. Wardrobe problems persisted as star Garrett Wang attested to during his time on Voyager, which premiered three years after TNG's finale.
As far as the second season of Picard is concerned, EP Akiva Goldsman provided a production update speaking with Collider. "We were not shooting," he said. "We were to start shooting in late June which, unless the world opens tomorrow, won't happen I guarantee you. We had broken the season [and] we are about halfway through the writing of it. We will start as soon as we can. Prep will have to resume, and then we'll start." Voyager's Jeri Ryan, who reprised her role as Seven of Nine for Picard, confirmed the delays on the Stars in the House-hosted reunion on YouTube. Goldsman looks to build on the successful first season. "We know what it is, and it's cool, and we're excited by it," he said. "I feel like we learned a lot from Season 1. Of the things I have in my life, it is most imminent when the world reopens." TNG, Voyager, and Picard are all available to stream on CBS All Access.