Long before the Arrowverse, long before we found a bearded Oliver Queen (Stephen Amell) stranded on Lian Yu, long before there was a CW, there was Smallville on the WB network. The story of a teenage Clark Kent (Tom Welling) growing up with superpowers and a set of awesome parents (John Schneider, Annette O'Tool). The show did well and started to expand. Unlike with the Arrowverse that has grown to five series, Smallville brought in other heroes like Zatanna, the Flash, Cyborg, Martian Manhunter, and of course Green Arrow (Justin Hartley), but they all appeared in the same series. And after a 10-season run, it was done.
A year later, executives from the CW (the merged WB and UPN networks) asked the writers of the Green Lantern movie if they wanted to do something with Green Arrow… and the rest has become television history. For an obscure character like Green Arrow to suddenly have a live-action version on television for going on 12 years straight is pretty amazing. Hartley has gone on to start in the hit NBC series This Is Us and last year the two Oliver Queens met a a convention and a photo was taken.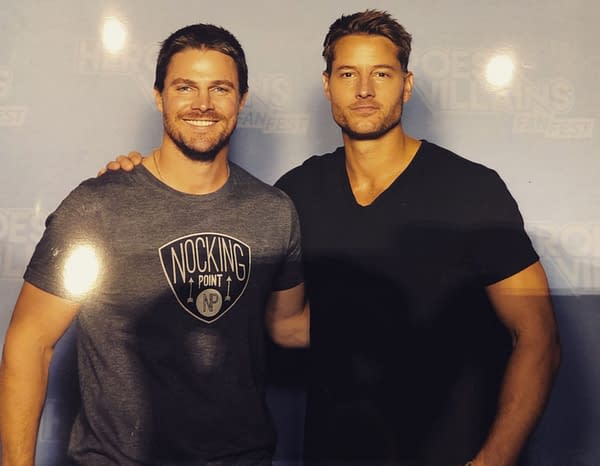 Turns out that Amell was recently at the same convention as Tom Welling, who is back in the DCTV universe playing Marcus Pierce on Fox's Lucifer. And here we have Amell and Welling posing together after it was posted to Amell's Twitter account.
The question now becomes: is he trying to collect all the Smallville photo ops? Will we soon seem him posing with James Marsters, who played Brainiac? Or is it just fellow heroes like Serinda Swan who played Zatanna? Oh, I know, he should pose with Alan Ritchson next who played Aquaman on Smallville and is now playing Hawk on the Titans series. [Editor's Note: Perhaps not Allison Mack, though.]
I'd like to think he has the pictures framed and up on his wall at home like the rest of us.
Enjoyed this article? Share it!