"Superfly" Jimmy Snuka Has Passed Away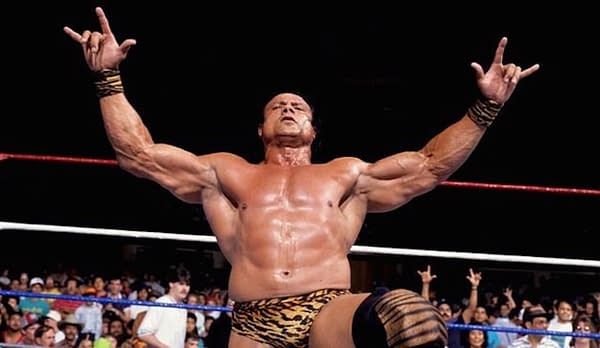 Pro Wrestler Jimmy "Superfly" Snuka passed away Sunday at the age of 71. His passing was announced by Dwayne "The Rock" Johnson on Twitter.
Our family @TaminaSnuka asked me to share the sad news that her dad Jimmy Snuka has just passed away. Alofa atu i le aiga atoa. #RIPSuperfly

— Dwayne Johnson (@TheRock) January 15, 2017
He also said:
RIP Superfly.
My family, @TaminaSnuka gave me this amazing pic she took of her dad only a few… https://t.co/qOoJAwxlYt

— Dwayne Johnson (@TheRock) January 16, 2017
WWE released a statement as well:
WWE is saddened to learn that WWE Hall of Famer Jimmy "Superfly" Snuka has passed away.

Snuka is regarded by many as the pioneer of high-flying offense because of his Superfly Splash from the top turnbuckle. His dive off the top of the steel cage onto Don Muraco at Madison Square Garden as hundreds of flash bulbs went off will forever live as one of the most memorable moments in WWE history.

WWE extends its condolences to Snuka's family, friends and fans.
Snuka has had a storied and troubled career in and out of the ring. As mentioned above, his dive from the top of the cage at Madison Square Garden is one of the all-time great moments in professional wrestling history. His feud with the late Roddy Piper is one of the best as well, with piper famously busting a coconut over Snuka's head. All of that has been tarnished and cheapened by his exploits outside of the ring however.
On May 10, 1983, his girlfriend Nancy Argentino was found unresponsive in their hotel room in Pennsylvania and later passed away. Snuka was the one who called 911 but when they arrived, he was nowhere to be found. her family won a wrongful death suit against him in 1985. He was not charged in her death, however in 2012 her family encouraged prosecutors to examine his memoir and found enough to charge him with the crime in 2015. Recently, due to many health problems, including dementia and early signs of CTE ( chronic traumatic encephalopathy) and numerous other years of abuse that took its toll, he was found not mentally capable to stand trial only 12 days ago. He was then moved to hospice in Florida where he passed away.
You can read up a bit more on Snuka's legal troubles at our links below.
Revealed At Murder Trial, "Superfly" Jimmy Snuka Has Six Months To Live
Murder Charges Dropped Against Ailing WWE Legend "Superfly" Jimmy Snuka