It's time to return to the world of The Handmaid's Tale. The Emmy award-winning show has shared a new teaser trailer for the upcoming third season which is currently in production. The teaser starts off as mock propaganda for this version of America that Offred (Elisabeth Moss), a.k.a. June lives in until it gets very real toward the end. As the trailer comes to an end, Offred implores the people watching to "wake up America; morning's over" as she stands with her fellow handmaids.
https://youtu.be/PuWg6AyzETg
There was also a teaser for this teaser released earlier this week.
There is currently no release date for the third season, but Hulu has said that it will drop later this year.
The Handmaids Tales, created by Bruce Miller, stars Elisabeth Moss, Yvonne Strahovski, Joseph Fiennes, Samira Wiley, Alexis Bledel, and Jordana Blake.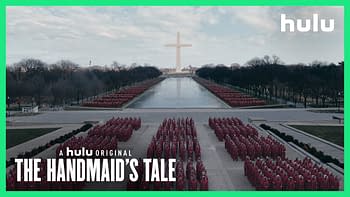 Enjoyed this article? Share it!