The Mandalorian Season 2: Jon Favreau Says "We Were Lucky"
Disney+'s live-action Star Wars spinoff series The Mandalorian has been having a pretty decent off-season. With the series set to return for a second season in October, news leaks have Rosario Dawson, Timothy Olyphant, Temuera Morrison, and Michael Biehn joining the cast, with series creator Jon Favreau, executive producer Dave Filoni, Peyton Reed (Ant-Man), and Robert Rodriguez (Sin City) helming episodes this go-around. Now, Favreau is giving fans an even more updated update on where things stand. Short answer? So far, so good. "We were lucky enough to have finished photography before the lockdown. Thanks to how technology-forward Lucasfilm and ILM are, we have been able to do all of our visual effects and editing and post-production remotely through systems that had been set up by those companies for us."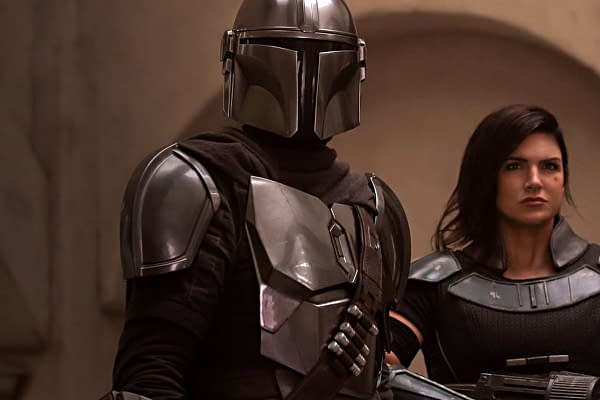 Favreau took part in a virtual panel at the ATX Television Festival, moderated by Vanity Fair's Anthony Breznican. Joining Favreau were directors Filoni, Bryce Dallas Howard, Rick Famuyiwa, Deborah Chow, and Taika Waititi. Chow is set to direct the streaming service's upcoming Obi-Wan series, while Waititi is developing his own film set in the Star Wars universe. Favreau revealed that because of the complexities of how television/streaming schedules run, the second season feels like the first season in a lot of ways while still distinguishing itself as its own season: "As we explore partnering with new filmmakers and having new characters and going deeper with the characters we already have, it's really been very fun and fulfilling and I hope people are having as much fun seeing it as we are having making it." And how are things over at Waititi and Chow's respective corners of the Star Wars universe? Waititi joked that his film was already finished, while Chow admitted Obi-Wan isn't quite that far along: "We have a little more to do than that, but we are in development still."
Set between the events in Return of the Jedi and The Force Awakens, showrunner Favreau and Dave Filoni's (The Clone Wars) The Mandalorian takes place after the fall of the Empire and before the emergence of the First Order and follows a lone gunfighter in the outer reaches of the galaxy far from the authority of the New Republic. Disney+'s The Mandalorian stars Pedro Pascal, Gina Carano, Nick Nolte, Giancarlo Esposito, Ming-Na Wen, Carl Weathers, Emily Swallow, Omid Abtahi, Werner Herzog, Taika Waititi, Bill Burr, and Mark Boone Jr. star.