Tom Welling Talks Why Smallville Never Went Full Superman
Kids these days live in a metropolis of DC Comics based tv shows, and will never understand why Smallville was so important to a generation of fans. There was something special that happened with this CW series, after the ill fated single season of Birds Of Prey, and it helped keep the dream of seeing Superman on the screen alive.
Actor Tom Welling, who played young Clark Kent during the 10 years of Smallville (which ran 2001-2011) recently admitted to Entertainment Weekly why we never saw his version of Kal-El go full Superman until the very last scene of the series. We *did* get to see that nifty red leather jacket, though.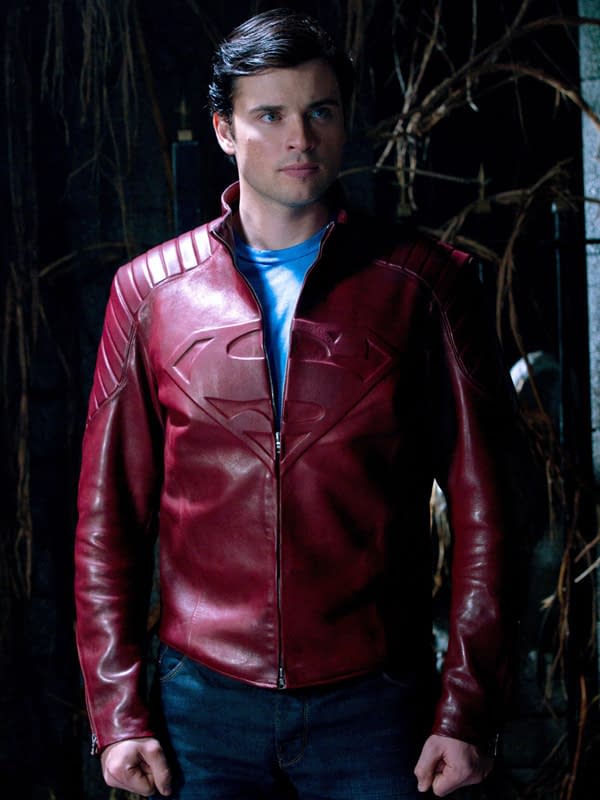 "It was something that we discussed before we ever shot the pilot for Smallville with [creators] Al [Gough] and Miles [Millar]. We literally had a sit down where we talked about the show and I asked about the suit and the tights and the flying, and they said, 'No, absolutely not,' part of the reason being is that show is about a teenager trying to figure out who he is. They felt that once Clark put on the cape and the suit, life became too easy, in a sense. They wanted to focus on who this character was before that. And, at the time, because of where visual effects and special effects and stunts were, it would be too expensive. That's mainly why they save that for movies, more or less.

We did things on that show where we didn't call them powers, we called them abilities — you weren't allowed to say powers; you just weren't because Clark didn't know they were powers, he just knew he had those abilities, so little things like kept us grounded and kept us faced onto the story we were telling about this character, not what he could do with these abilities.

Our series finale was supposed to be, in the first act, Clark puts on the suit and flies around, saves Lois on a plane, and does this other stuff. It was a call that I had with Peter Roth, who is the head of Warner Bros. Television, who's a good friend of mine and we have a great relationship. I said, 'That's not our show, Peter.' He's like, 'No, it's going to be great," and I go, 'Yeah, but just think about what we've been doing. If we just jump into that, we haven't earned it.'

We jumped onto this idea that at the end of the show, the idea is that Clark becomes Superman and he's out there, and we know he's out there, but we can't go with him, but that we know and we feel good that he's out there doing good. That was what we strove for, and I think we hit it. I liked the ending of the series, because it's like, 'Yes, he did it!' I hope the audience didn't feel like we didn't show them something that they needed to see. I felt like we gave them the jumping off point for their imagination as to what could happen."
The interview concluded with Tom talking about the current renaissance of DC Comics television shows with the Greg Berlanti universe, and why we didn't get him as Superman on CBS's (and now The CW's) Supergirl series. He also touches a bit on how yes, even though he's not donning the cape and tights again, he's still a part of the DC Universe with his role on FOX's Lucifer:
"I know Greg quite well and there had been some discussion, but they're different worlds. There was an idea that maybe Supergirl, appearing on that, but it's such a different show. I'm older now, I don't look the same. Appearing on that show as Clark Kent or even Superman, for me, I would not want to watch me do that at all. They just have such a different tone. To me, because this is still even a DC Universe, which wasn't a consideration in the beginning, but Lucifer is still DC, so in some ways it's one foot in, one foot out, but it wasn't a motivator for me to join the show. It just so happens that it was connected in that way."
Even if you weren't a fan of Smallville when it was on, you have to admit it really did pave the way for the resurgence of all things DC Comics heroes.