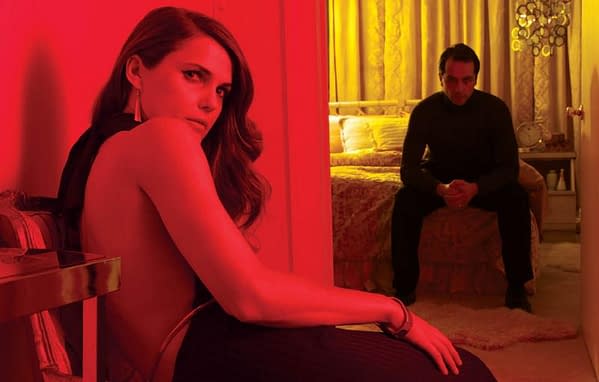 We're living in the digital age. Even if you've failed to keep up with spy drama The Americans as it's been rolling out on ITV every Saturday night, there are means by which you can catch up.
To be in with the chance of winning £100 of iTunes credit, which is way more than enough to get yourself up to speed with The Americans, just read the below and follow the instructions carefully.
The Americans is now available to download as a DigitalHD Season Pass on iTunes, and to celebrate we have a £100 iTunes gift voucher for one lucky reader to win!

The Americans has become essential Saturday night viewing, following the marriage of two KGB spies posing as Americans in suburban Washington DC.

The arranged marriage of Soviet spies Phillip and Elizabeth Jennings, who have two children who know nothing about their parent's true identity, is constantly tested by the escalation of the Cold War under President Ronald Reagan, and Phillip's growing sense of affinity for the American way of life.

To keep up to date with the latest episodes, you can purchase the DigitalHD Season Pass on iTunes.

To be in with a chance of winning £100 in credit, simply answer the question below:

Which Welsh actor, known for his role in Brothers and Sisters, plays Phillip Jennings in The Americans?

Matthew Rhys
Dan Stevens
Michael Sheen

Send your answer to me through our contact page, being sure to select the Film option on the pull-down menu. Include your name, contact number and e-mail address.
Good luck. And do be aware that this is UK credit for the UK iTunes store.
[youtube]http://www.youtube.com/watch?v=1YqKVCrnaxg[/youtube]
Enjoyed this article? Share it!