WWE Monday Night RAW Review: An Awkward Mix of Excitement and Sadness
Welcome to the first post-massive-layoffs-and-furloughs edition of WWE's Monday Night RAW. It seemed no one was safe from the cuts that came, and our heads are still spinning from the news. We opened with Drew McIntyre greeting the audience with a topical "Hey there, all you cool cats and kittens." It's simply impossible to hate McIntyre, regardless if he's heel or face. He gave a proper promo in regards to Seth Rollins wanting his WWE Championship title. Zelina Vega interrupted him with some fantastic back and forth, and then Andrade ambushed him. Welcome to this week's Monday Night RAW.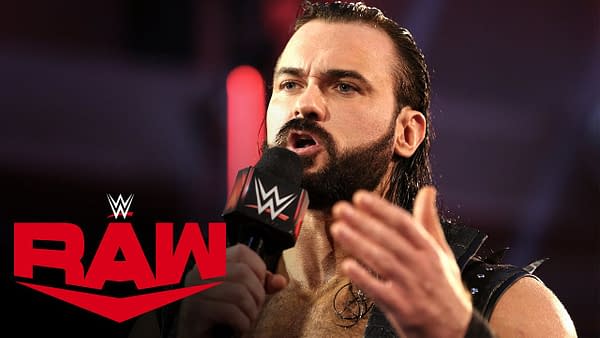 Our first match of the evening with Austin Theory and Aleister Black. The match was fine and fun, but the real joy was Zelina Vega on commentary talking smack about her real-life husband, Black. Vega is a natural on the mic. She's enjoyable, deliciously mean, and funny. As I said the match was fine. Black and Theory are good in-ring performers, but it really picked up with Vega confronted Black herself. You could just feel the joy in taunting her husband via kayfabe. Black took the win.
Shayna Baszler had the next match against Indi Hartwell. Now, the match itself was a squash match. But WWE did reference Sarah Logan (even showing her last match last week) several times through this match. Logan was released from her contract last Wednesday, a mere two days after she performed on RAW. Her release was frankly shocking. Will WWE bring her back at a later date? Who knows, but Logan frankly deserved better last week. This week's RAW is in the middle of building up the matches and storylines for the upcoming Money in the Bank pay-per-view. We saw more matches than promos, and each match was fine and exciting. It still felt a little odd watching, given the events of the last week.
For example, good on Lana for doing her job and continuing her storyline with Bobby Lashley. She's a professional so maybe it seems odd to thank her for doing her job, but it can't feel good to know your actual husband, Rusev, was let go. Especially when you think back to how over he was with fans. On top of that, you have to continue on television as if the storyline never really happened. Politics and feelings aside though, these performers are still putting on a great show week after week. In such unsure times, it's nice to still have Monday Night RAW as a constant in our lives.