X-Files Season 11: Live Tweet Along With Us During The Premiere
Tonight, FOX's The X-Files returns for it's 11th season premiere. You may recall last year, we got a six episode mini series that covered season 10, but there was also the IDW comic series released in 2015 officially called "season 11". Anyhow, about the "season 11" that's airing tonight…..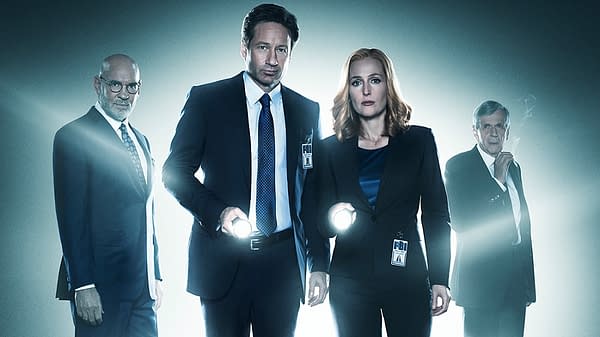 Series creator Chris Carter returned with this alien baby, along with our favorite FBI agents, David Duchovny as Fox "Spooky" Mulder and Gillian Anderson as Dana Scully. We also saw the return of Mitch Pileggi as AD Walter Skinner, and William B. Davis as CSM (Cigarette Smoking Man). We've already been promised the return of other notable X-Files characters for season 11, like Robert Patrick as Agent John Doggett, and Annabeth Gish as Agent Monica Reyes.
As for the future of the show after the completion of s11 and end of Anderson's Scully role (she said she's done after this), Carter commented in an interview with Collider that he wouldn't, WOULD NOT, do more X-Files:
Gillian Anderson has said that this season is it for her. Is that a definite decision from her? Would you ever consider doing another season without her?

CARTER: I wouldn't. For me, The X-Files is Mulder and Scully. I think if it were without Scully, I wouldn't do it. That's not my X-Files.
So, if you're brave and don't mind spoilers, please join us on twitter on our BleedingCoolTV account to live tweet the season 11 premiere episode, "My Struggle III".