FOX's hit series The X Files returned last year for a six-episode "event" after an absence of 14 years (minus the second movie, because we all try to forget that thing ever happened). Mixed reception aside, the series did stay consistent with several things from previous seasons — and one of those kind of sucks.
Out of 208 episodes, only seven were written (or co-written) by women. Only two of those 208 were directed by women. These numbers aren't changing with 2017's 11th season of the show, either.
Shocking? Not really, because the show did it before, meaning they'll keep doing it until someone tells them not to. Any fans of The X Files knows that Chris Carter has sort of turned into Ridley Scott, getting so caught up in his own creation's mythology that the pure entertainment has gone by the wayside. Of course, I'm comparing Prometheus and Alien: Covenant to the episodes of The X Files revival Carter wrote, which were the weakest and most disappointing of the revisit. Sometimes sleeping grey reticulans need to be left alone.
The news that the writers' room for season 11 of X Files contains no women is something that again, we can say the show is consistent about. But in this day and age, is that really a good thing? Sure, we have NO IDEA where the plot is going, this could be the best decision for the characters and lore, but it seems really backwards for a show with such a strong female lead.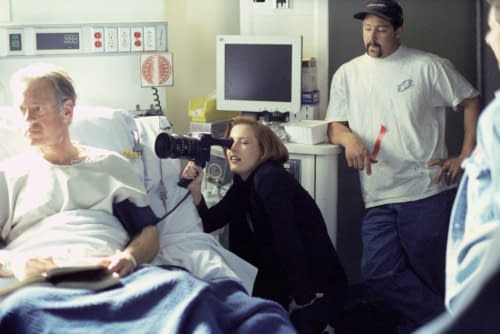 Actress Gillian Anderson was one of the seven female writers and two female directors, writing and directing the Season 7 episode All Things. One of the most beautiful episodes of the later seasons, a glimpse into the past of Special Agent Dana Scully, the constant skeptic even after being abducted by aliens (twice) comes face to face with spirituality and the flow of the universe. Moving and emotional, the episode showed great promise for Anderson's future behind the camera. The fact that it took seven seasons for this to happen says a lot about the state of network television at the time.
Gillian tweeted when the writer's room names for Season 11 were announced:
And 2 out of 207 eps directed by women. I too look forward to the day when the numbers are different. #TheFutureisFemale https://t.co/38SVdTfCR1

— Gillian Anderson (@GillianA) June 29, 2017
And again, in response to the numerous stories popping up afterwards:
Not 'slam', not 'rip', just stating truth. I believe we can do better. #TheXFiles https://t.co/KGfxLcd4nO

— Gillian Anderson (@GillianA) June 30, 2017
If anyone can possibly pave the way for a female face or two around the table, my money is on Starbuck. (If you don't know, that's the nickname Scully's father gave her.)
The X Files returns for its 11th season sometime in FOX's 2017-2018 season.
Enjoyed this article? Share it!