Comic Shop News Gets Taken Over By Hydra For The First Week Of June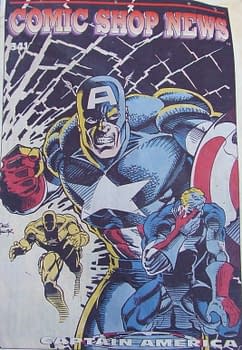 Comic Shop News, the weekly giveaway comic book newsprint magazine partnered with Newsarama, is getting a Hydra Takeover. The issue for the 7th of June will be taken over by Hydra imagery and will come with "a feature article, teasers for what's to come, and more".
Editor Cliff Biggers, who also runs the Dr No's Comics And Games Superstore in Marietta, Georgia, told Bleeding Cool "We're working with Marvel to present Comic Shop News readers with an informative look at what's coming up in the remainder of Secret Empire. No big secrets are revealed—we're not the spoilery type–but Tom Brevoort and Nick Spencer offer a lot of details about where the story is going and how various Marvel family titles and franchises will be affected. Marvel has been incredible about sharing information with us and helping with art assets, etc. David Gabriel and Peter Charpentier have been working point with us to get everything coordinated, and it's gone great!"
There has been concern expressed by some on social media regarding comic stores or websites that participate in the Hydra takeover, propagating fascist/Nazi-associated imagery. But for something like CSN, you could see a number of stores ordering the magazine for collectors who want the whole story… and get the magazine in thousands of stores rather than the hundreds it is currently available in.