Javicia Leslie Joins Kaitlin Olson on ABC, Drew Goddard "HIP" Remake
Javicia Leslie (Batwoman) is joining Kaitlin Olson (It's Always Sunny in Philadelphia) for ABC & Drew Goddard's "HIP" series remake pilot.
---
We learned earlier this month that FXX's It's Always Sunny in Philadelphia star Kaitlin Olson (Hacks) was set to lead ABC's untitled "HIP" (High Intellectual Potential) remake. Now, that alone was enough to sell us on the project. But now we're learning exclusively from Deadline Hollywood that Batwoman star Javicia Leslie will also be joining Olson and Daniel Sunjata (STARZ's Power Book II: Ghost) in the role of Daphne. Olson is also set to produce the procedural drama pilot based on TF1's popular detective series, stemming from writer Drew Goddard, Goddard Textiles, and ABC Signature, with Rob Thomas (Veronica Mars) as showrunner & executive producer and Alethea Jones (Mrs. Davis) directing & executive producing. The project is based on the original French series Haut Potentiel Intellectuel (HPI), created by Alice Chegaray-Breugnot, Stéphane Carrié & Nicolas Jean and starring Audrey Fleurot.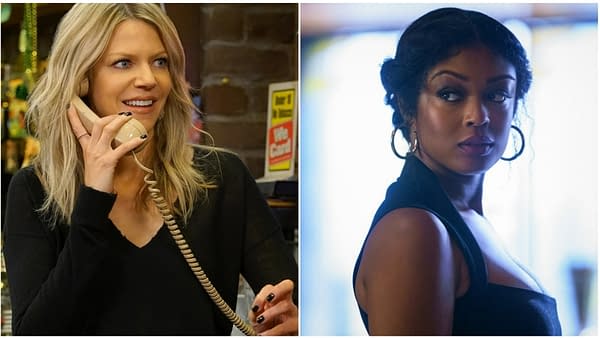 The series pilot for the untitled "HPI" remake focuses on Olson's Morgan, a single mom with three kids and an exceptional mind who helps solve an unsolvable crime when she rearranges some evidence during her shift as a cleaner for the police department. When they discover she has a knack for putting things in order because of her high intellectual potential, she is brought on as a consultant to work with a by-the-book seasoned detective, Karadec (Sunjata), and together they form an unusual and unstoppable team. Olson's Morgan leads a chaotic, hand-to-mouth existence in spite of (or because of) her IQ of 160. Assertive, fearless, and possessed with a serious anti-authority streak, Morgan is able to spot details that others ignore as the white noise of life.
Goddard and Sarah Esberg will executive produce ABC's adaptation for Goddard Textiles; Thomas Etheridge and Dan Etheridge executive produce for Spondoolie Productions, with Pierre Laugier and Anthony Lancret executive producing for Itinéraire Productions, a UGC company. The news comes as Olson, Rob McElhenney, Charlie Day, Glenn Howerton, and Danny DeVito continue filming the 16th season of FX Networks' record-breaking comedy series.