'Lucifer' Gets a Little Cheeky in New Netflix Promo
It looks like the cast and crew of the "new" Netflix original series Lucifer are finding themselves quite at home at their new network:
Lucifer originally ran for three seasons on the FOX television network before it was cancelled, then picked up for a fourth season as a Netflix original series. Lucifer is the second FOX series to find new life at another network, joining Brooklyn 99, which was spared from a similar fate by NBC.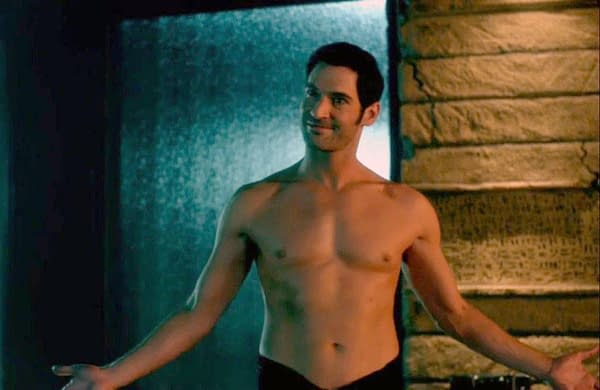 Lucifer stars Tom Ellis as Lucifer Morningstar (you know, the devil), who finds himself teamed up with LAPD detective Chloe Decker (Lauren German) as a special consultant. The show has a strong fan following, which was instrumental in getting Netflix to pick up the series in the first place.
Lucifer is based off of a character from the Sandman comics, and the show loosely borrows themes from stories orginally written by Neil Gaiman for DC's Vertigo Comics imprint.
Netflix' decision to rescue Lucifer was complicated by rights issues, as different streaming platforms own distribution rights to previous seasons. Distribution for seasons 1 through 3 is owned by Hulu in the United States, while Amazon holds those same rights in many overseas markets.
Netflix made the decision to forge forward with a fourth season despite those rights difficulties, which has become a thorny issue for many content providers. SYFY scrapped its exceptional series The Expanse due to lack of distribution rights to the early seasons of the show, prompting Amazon to pick the series up for an additional season.
The Netflix Original Series Lucifer is produced by WBTV in association with Jerry Bruckheimer Television. The series is executive-produced by Jerry Bruckheimer, Jonathan Littman, Ildy Modrovich, Joe Henderson, Sheri Elwood, and Kristie Anne Reed.